Is social media just a technological matter, or is it a big step forward for mankind?
We believe in an holistic vision, so we wish to consider technological progress as part of our culture.
Undoubtedly, social media has given the power of words to everybody, sometimes with positive results, sometimes less so. The contributions of social media are a milestone, and the change is just beginning.
Living far from home no longer has the same meaning as before. When people can talk to and see one another even 10,000 miles away, how can we consider that far away? The messengers at the time of the Ancient Egyptians or the Pony Express took months and months to deliver messages and get back the answer. Now, everybody is "just around the corner". We can share events at the moment they are happening. Culture is easily and immediately available.
Nicholas Negroponte said almost 30 years ago that humanity is inevitably headed towards a future where everything that can be will be digitalized. He was pessimistic in respect to what has happened. Actually, it is reported that 50 billion devices are connected, and the number of people using the internet to communicate is increasing day by day.
The figure of our "globality" has skyrocketed over the last five years thanks to the smartphone taking the the place of the computer as our primary means of communication. Instead of dedicating time to PCs out of working, domestic, and leisure time, the smartphone gave everyone the capacity to bring the world in a pocket.
But there is a funny aspect of globalization; people are deciding to get global…"not globally".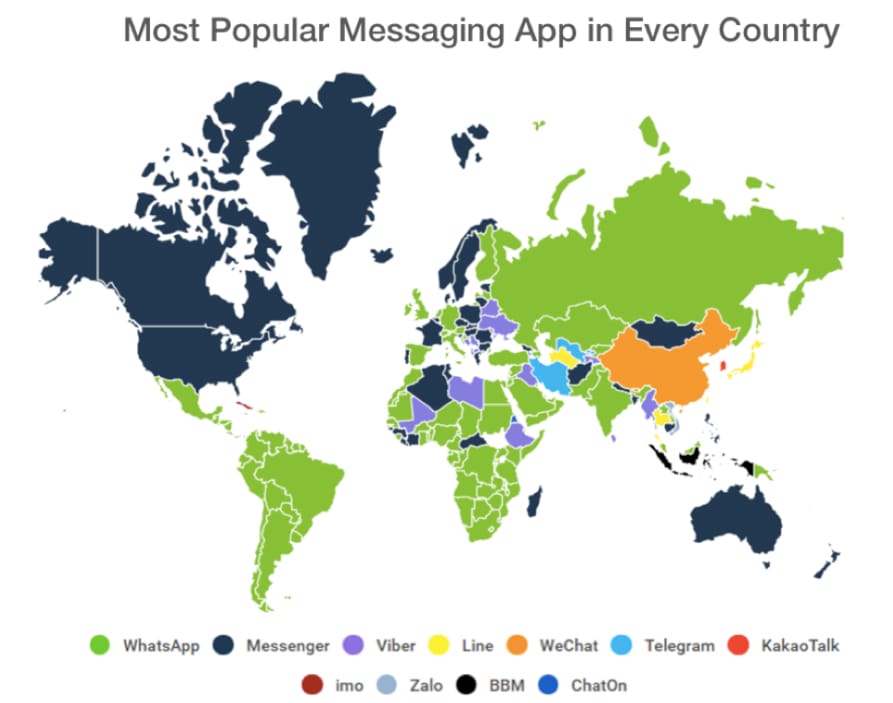 Looking at the map of worldwide social media, it is evident that the attitude of the users, in terms of preferred social media, changes nation by nation. It is difficult to understand why Turkmenistan and the Japanese prefer Line and Koreans mainly use Kakao Talk. Chinese people only use Wechat, and Americans only Facebook Messenger, and it is very complicated to make sense of this phenomenon without singling out national characteristics.
Facebook, the biggest player in social media, had an amazing growth from 2004 to 2012, reaching 800 million users. But then they released their app, and from 2012 to 2016 they got up to 1700 million users. They are expected to reach over 3 billion in 2020 (assuming it is still banned in China).
China, isolated in its sun shining growth, has created a super app that has become the milestone for all social media, integrating hundreds of services that are simplifying the life of Chinese spender: Wechat.
Wechat has defined a new standard that permits the Chinese to leave their wallet, credit card, debit card, cheques and whatever at home without any problem. Moreover, they are competing with mobile calls, e-banking systems, and sharing clouds with a unique app that evolves day by day and that will also face off against Alibaba in the e-commerce field, creating a new battlefield: m-commerce (mobile-commerce).
The graphic indicates that almost all Chinese people will be connected using Wechat, along with a large group of global users.
While only 38% of the world are using smartphones for buying online, in China the average is 98%.
Companies are encouraging the use of Wechat among workers to avoid wasting time and to be prompt in reacting to any information.
Wechat official accounts are concentrating on promotion and advertising. The next step is to open the "click to buy" feature, which will make it unnecessary to go to the store to buy anything.
Whatsapp is a global runner up to Facebook and it is still almost unknown in North America and Asia. But it is working hard to integrate more features, like file attachments and business facilities. In Brazil and Italy, Whatsapp is widely used by patients to talk with their doctors.
In the last five years, the app had a great increase in use, but it is estimated that this growth will be slower until 2020.
After Whatsapp, Facebook Messenger is the second most used messaging app in the world, crossing the one billion mark.
Facebook is moving to Messenger to cover a lot of features and services and that business environments demand.
Instagram is moving fast to compete in the integrated system of interaction among users. It started at the beginning as just a system to post pictures. Nowadays, it has extended its service to post videos and stories, and it is fully integrated with other social media like Facebook and Twitter. They crossed 500 million users, but it is expected to grow quickly due the implementation of the business area. Instagram is the social media preferred by celebrities, bloggers and influencers.
Twitter has changed a lot in the last three years since they were bought by Facebook in 2014 and have since been fully integrated with it. Nevertheless, Twitter remains more related to short messages like news and quick comments. However, it seems there will be extensions just around the corner and it will probably start to look more like a full fledged social media site than a quick messenger.
Snapchat, Periscope, Clash, Viber, Line, Kakao,  and MX Player are other apps belonging to the family of social media messengers, but for different reasons are limited to some restricted area or, like Snapchat and Periscope, are more related to one-directional communication and limited to video messages. At the moment, they do not seem to be of interest to the majority of the users or, in some cases, are used for the integration or expansion of personal published posts.
What does the future hold? While social media now only connects people, perhaps someday they will allow for  communication with things.