The fourth installment of South African Menswear Week kicked off on July 6 at Green Point Stadium and set everyone up for a fierce four days of frantic hustle as we took in the season's looks. While this fashion event prepares you to see what South Africa's creative take on fashion for men is, don't let this box fool you because 'what's in a name?' was indeed what sprung to mind. Traditional couture was deconstructed by the breaking of gender boundaries and rules blurred between street and high fashion, and perhaps it is this social discussion around gender that allowed for Africa to find the space it needed to breathe and show work without constraints, expectations, or outdated narratives. What culminated was a collection of some of the best future-facing fashion minds from all over the continent.
Nick Coutts and Terrence Bray opened up the proceedings. The two darlings of the scene brought back-to-back shows that set one of the many bold tones that would be seen over the next few days. Technically a womenswear designer, Coutts dismissed the classification and brought his signature textured look, vibrant with pops of colour over cool earth tones. The African element of maximalism came across in a clash of textiles, and this filtered into Bray's aesthetic whilst retaining respect to each designer's unique style and the two designers complimented each other. Bray served high fashion through a tribal lens that harkened back to African ideas but brought currency to it with draped and layered swaths of fabric, a muddy palette, and delicate headwear.
The evening flowed into Tsepo Tsotestsi, Nao Serati, Jenevieve Lyons and the highly anticipated CHULAAP by Chu Suwannapha collection. Suwannapha's show was eccentrically offsite in a parking lot and had the fashion set huddle onto benches as his fresh selection marched down the makeshift runway.  'The Prince of Prints' was apt, and the models appeared fully painted and covered in crocodiles and jewel colours. It was inspired, and the excited hum of appreciation and nodding heads added the right punctuation to cap off the night.
Outside, static displays held up the fort and I found myself wandering over to Kim Gush's mannequins each night. We had a chat over Facebook a few days later in the afterglow:
W: What inspired this collection?
K.G: Memento Mori ("remember that you have to die") is the catalyst of this collection, a Latin expression that soon became related to Ars Moriendi ('the art of dying') -advice on how to 'die well'. It's a reminder that we are all immortal. Often we find ourselves on the high of success and grandeur that we forget who we are and where we came from, to our own detriment. Take a step back.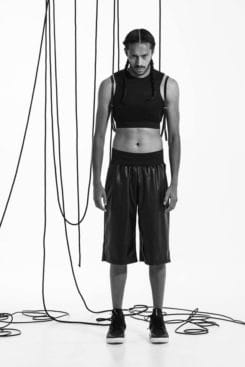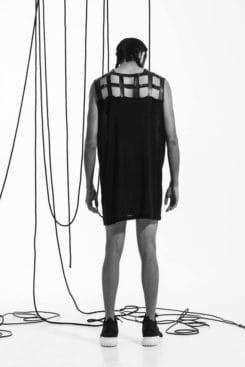 W: Your collection was very textured, perhaps even a little softer than your previous show. Tell us about the ideas here.
K.G: This season we are focusing on combining handcrafted concepts with the mechanical - really taking us back to what we stand for and where we started as a brand. Diaphanous, raw, hand-painted linens are dressed up with leathers and metal hardware.
W: Tell us about the strong undertone of death/the macabre in this collection?
KG: Ironically it always seems to take something bad to happen for us to realise what we have/have to be grateful for etc. While the collection will come across macabre to the masses, it's a true  K I M / G U S H way to convey a message far from.
W: What did you think of SAMW SS 16/17 overall?
K.G: SAMW is always exciting to see what the young talent is bringing to the table - it's amazing to see where the future of local fashion is going and the hands it is in. Every single designer that showcases has a very different, strong point of view.
I personally felt that there were a few cases where you can see the pressure of having to constantly produce new, exciting collections on demand has let them slide a bit on quality and concept, but in that a lesson learnt that we all just need to pull back at times, regroup and remember what we stand for.
Moving inside to the packed auditorium, I discovered that the opulence of Ruald Rheeder was something to live for. I was feeling Gucci's Ford revival once again as Rheeder held up his vision in a global clash of sequins and textiles; 'more is more' sums up SAMW this segment. Tuxedos in two tones, diamond-studded cravats and collars, kohl eyes, and dapper drainpipe pants made for an army of beautiful dandies layered in luxury. The longer lines added a modern twist, and Rheeder is a shiny star of the SA fashion scene.
FMBCJ by Craig Jacobs showcased tunics and tribal paint that looked like Keith Haring may have had a lean in – a brash and exciting aesthetic that reflects a freshness from one evolving era of sexuality within the current one.
Finally, a resounding applause rang in my head for Blanc. Alexandra Blanc, the tiny blonde detail behind what may have been the most packed show in the event, is the root cause of the wonderfully strong collection, captioned in bold print 'In Blanc We Trust.'
To me, "Blanc" represents anonymity and identity at the same time. When I started the brand, I called it Blanc as it was a clean page for a fresh start, a blank canvas to paint a new future and the freedom of creative expression, which I wanted the wearer to experience too. The phrase, "In Blanc We Trust," represents belief in what the brand stands for - the liquefaction of boundaries, divisive binaries and questioning of social constructs, trust in the question rather than the many made up narratives which attempt to give our lives meaning, we let go and trusting in the question itself, we start to trust ourselves. – Alexandra Blanc
This is the beginning of the world seriously sitting up and taking notice of African talent.