Anke Domaske, a micro-biologist and designer who lives in Hannover, Germany, discovered a creative way of producing textiles. In 2011, she invented Qmilch, a silky fabric woven from casein, a protein present in milk. This innovative product is eco-friendly and has various advantages. "My science background helped me to develop this textile fibre made from Non-Food milk that is completely natural and feels like silk. Nevertheless, the fashion side is needed to create fabrics and styles with clients," said Domaske.
The brand QMILK was born in Domaske's house. She was searching for chemically untreated clothing for her stepfather, who was suffering from cancer and reacted allergically to conventional fabrics. Then, she found out that milk proteins had been processed into textiles in the 1930s. However, the original method included chemicals and complex procedures. As Domaske explained: "I discovered an old process but many chemicals were used to create these fibres. I thought that milk was something natural and should stay this way. This is how we came up with the idea."
Inspired, Domaske set up a homely lab at her own kitchen, for about 200 Euros. After two years of experimenting, she completed her awarded proposal: an organic polymer free of solvents, plasticizers and other chemicals. Nowadays, QMILK is a group of companies dedicated to the production and development of biopolymers, based on milk proteins and raw materials.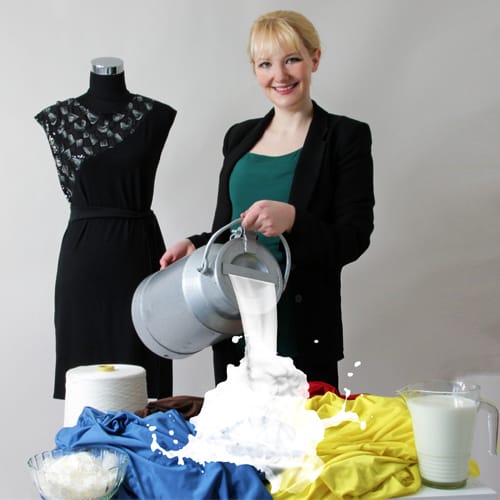 A thread of innovation
Basically, QMilk is a textile produced from milk that is no longer fit for consumption as food or tradable. It is a patented, specially-designed spinning process that elaborates natural fibres with the smallest footprint. Moreover, it is manufactured with 100% renewable resources and is a totally natural product. For example, only an hour and 2 litres of water are required to create 1 kg of QMilk fabric. Low resources and energy are needed for the production, with a result of almost zero waste, and CO2 emissions are minimal. In addition to all of this, everything is produced locally and the textile is absolutely biodegradable in compost after a few weeks.
The sustainability begins with the upcycling of a raw material: the first milk of calving cows, which is unprocessed, or the milk that has already gone sour. The University of Berlin has stated that in Germany alone, more than two million tonnes of milk are disposed every year. Besides, the company's practices focus on ethics and transparency in the whole process and supply chain, from breeding of the cattle to the making of the products.
On the other hand, the natural fibre has also thermo-bonding properties, which means that they can be combined with other threads without the use of plastics or phenolic resins. As a result, the light-weight material mixes remain natural. Any variety of wool (such as alpaca or merino), viscose, cotton, or those with cellulose or synthetic origins are suitable for this process.
Regarding the users, QMilk fabrics are skin friendly. The product is suitable for people with sensitive skin who suffer from skin allergies or who react to cotton, synthetic fibres, dyes, glues, tanning agents, chemical additives and formaldehyde finishing resins (all normally used in the production of clothing). The main reasons behind this are the antibacterial properties and the fact that the fibre is free of chemicals, which made it possible to be dermatologically certified. Besides, the fabric can soothe the skin of people undergoing chemotherapy or other similar treatments. And, in contrast to what some may believe, those who are lactose intolerant can wear the material because the protein fibres are lactose free.
When it comes to the clothing lines made with QMilk, garments are comfortable, soft and smooth with a silky feel. The company claims that it has anti-aging properties; that the amino acids in the casein fibres help regulate blood circulation and body temperature; that absorbs water easily and it is flame retardant. These pieces are said to be low-maintenance, machine-washable and dry twice as fast as cotton.
The baking
The following may sound like a cooking recipe, but it is not. Starting with the mentioned non-food milk, casein (the solid white substance that surfaces on sour milk) is separated from the rest. Then, it is left to dry to obtain a kind of flour. Next, this powder is mixed with water and the dough is kneaded. Finally, a machine is the responsible to "spin" the casein dough into fibres as thin as hair.
Anke Domaske makes it even clearer: "When milk turns sour, whey is separated from the white flakes, which is the protein of milk. When you dispose the whey, a cottage cheese is left. Then, this is left to dry to obtain a protein powder. Afterwards, the powder is put into a machine that works like a noodle-making one. Everything is mixed into dough. At the end, there are nozzles with such fine holes that you receive fine textile fibres, instead of noodles."
Amazingly enough, Anke Domaske has declared that almost six litres of sour milk are needed to make a single dress. In contrast, World Wildlife Fund (WWF) estimated that it can take 2,700 litres to produce the cotton needed to elaborate one t-shirt. This proves that QMilk has an enormous potential when it comes to sustainability and it would be a viable answer for future clothing production.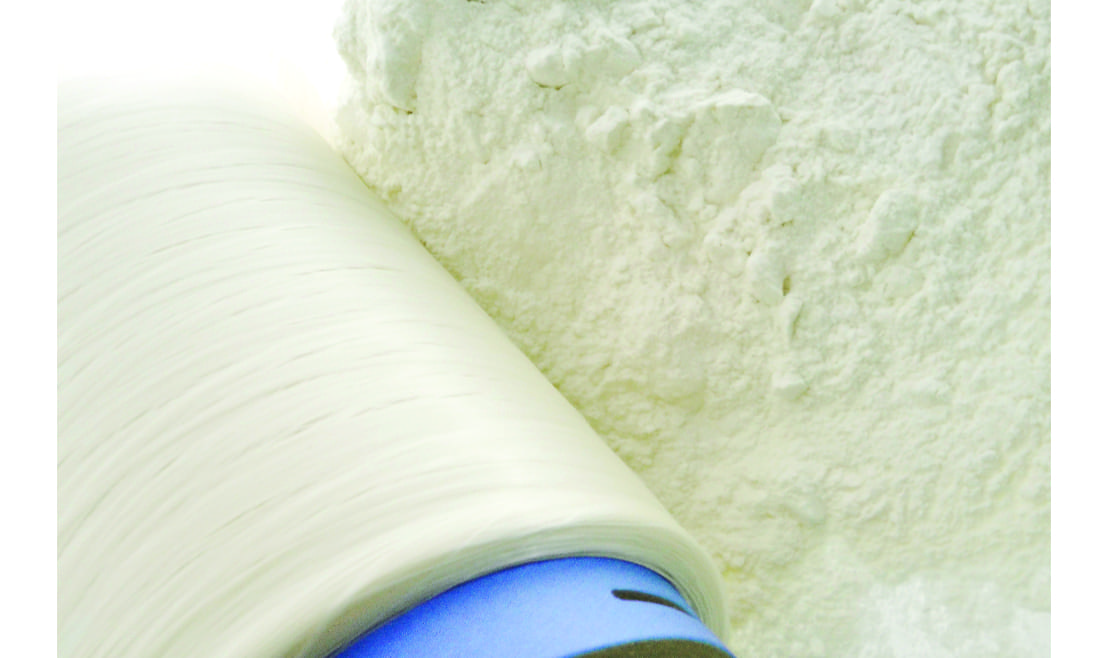 Further applications
After achieving the production of clothing made with QMilk fibres through her own fashion label, called Mademoiselle Chi Chi, Domaske has focused all her effort in the perfection of the product and offers it to other fields, such as automobile industry or medicine. "We have also developed a technical fibre. We have paper products on the market in the form of wipes and tissues. Moreover, we produce felt through thermo-bonding. Many things are created from these textile fibres. All can be potential applications for us as well," declared the micro-bioligist/designer.
As she previously said, toilet paper, wipes and spunlaces represent a great QMilk application, since the material is free of chemicals or silver. It also dissolves in contact with water, so it is possible to dispose them by flushing without affecting the sewage system.
Finally, QMILK has a cosmetics line of natural products with natural peptides. The brand's creams, oils and serums are free of alcohol and glycerol. These help protect and regulate processes of the skin, taking into special consideration sensitive skin types.
The future for QMILK is wide open, as the innovative invention of non-food milk fibres continues to amaze both its creator and the public. Maybe this is the key to achieve a sustainable production for many industrial rubrics.