In the district of Belgrano, if you know what you are looking for, you can find among residential houses the restaurant of Martin Molteni: Puratierra Argentine honest food. It is a small, concealed restaurant  which has served a clientele of regulars, people from the surrounding neighborhood, and a few tourists since its opening ten years ago. This Argentinian restaurant does not serve the Argentinean "asado" (barbecue), as they have no grill for it. Puratierra's chef cooks in a clay oven and the food has its roots in pre-Columbian country cooking.
For years this type of establishment has grown in the country, allowing products and traditions which were almost lost in capital cities, like Buenos Aires, to be rediscovered. But when Puratierra opened, the proposals of the chef were a novelty amongst the strong presence of other significant culinary cultures brought with immigration.
The name, meaning "pure land", sets the tone of what is to be expected as you enter through the door. The menu changes with the seasons, with a balance between sophisticated techniques, local ingredients and the chef's personal mark, making current versions of Argentine local dishes. The dishes are a surprising and tasty mixture of noble ingredients, simplicity and creativity where the search for an honest cuisine and commitment to Argentinian roots can be seen.
In the words of the chef, the idea was born " after continuous travel and interaction with native cultures in their places of origin, I felt that we should go deep into the roots of our culture, but with a contemporary vision, to present creative cuisine to local and international audiences, and deepen the draft research that we have been carrying during travel upon our native and regional cuisine".  The chef, Martin Molteni is a culinary researcher and Puratierra is in fact a laboratory where memories, stories, traditions and tastes amalgamate.
Martin Molteni began cooking at only twelve years old in his family's restaurant, and has not stopped since. At fifteen he began his culinary studies and formalized in the Regency Hotel School in Australia. Then between 1987 and 1992 he worked in the kitchens of Lola, Dill, El Aljibe Sheraton Hotel, and  the Hyatt Hotel La Mansion. He lived in France between 1994 and 1995 working with  Jacky Dallais, Jean Paul Duquesnoy and Roland Durand. Back in Buenos Aires, from 2002 to 2004, he served as culinary manager at the Mares Sur Hotels in Patagonia, the northwest of Argentina and Pampa, which allowed him to experience another side of this cuisine. Today, he has two restaurants besides Puratierra: Marieta in downtown Buenos Aires and Rio Ancho outside of Colonia, Uruguay.
A project like this is not without its problems and Molteni has had to face a number of them; some of which are still challenges to overcome daily.  One of these problems is that all products are of high quality, seasonal and from small producers. This presents several difficulties such as transport logistics. Most of these producers do not have the structure to move the product, besides requiring continuous research trips to the deepest parts of Argentina to find and engage the connection with them. To do so, Molteni has managed to unite with other chefs and restaurants to arm shopping pools to build a delivery system that helps the continuity of the product. Molteni tells us that, "For years we worked together with chefs and producers, to try to improve the rules, logistics, information, to make it more fluid. It's hard, but it is work that must be done daily, until one day continuity occurs. We know it is vital to this government intervention to assist the internal process. And we hope this stage give us more hope of finally getting our native and regional product to be present in every place you want to work with".
Another challenge Molteni has overcome is integrating into his cuisine the seasonal products themselves. Subject to the whims of the seasons and other consumers, not all ingredients are always available. This situation, far from being a problem, gives him the freedom to create a dynamic menu that changes regularly. While there are dishes that never fail, the ingredients may vary, which generates courageous and creative conjunctions.
Puratierra's mission is to offer an experience that, besides food, includes a warm atmosphere and friendly service that leads most diners to retire by greeting the team with a hug and promising to return soon. Puratierra does not seek to constantly surprise, but to find a balance between innovation and tradition.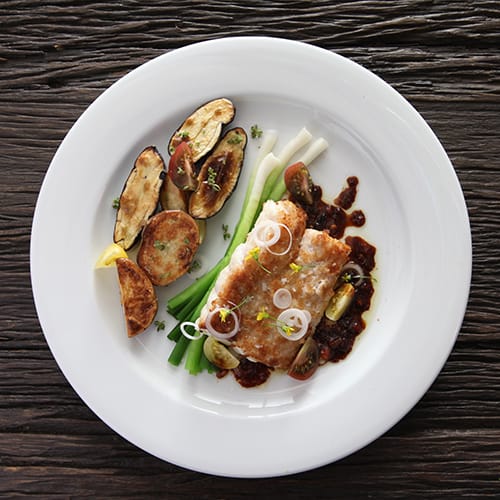 All the dishes offer a tasting menu with nine steps that allows the customer to sample dishes like white fishing day grouper, chernia, sea bream, sea bass, harvest fish or the catch of the day. Meats such as Patagonian lamb, ñandú, bullock, pork tenderloin, and hares, as well as poultry like duck, quail or chicken grain are also offered. All of this is accompanied by exotic fruits and vegetables accompanied by infinite herbs, flowers, buds and grains that have a particular hue, adding to the aesthetics of the cuisine. Some of the dishes that can be found are: ñandú tartare with roasted peppers gel, pickles and marinated vegetables, Apple puree and  ñandú tartare con gel de pimiento rostizado, encurtidos y marinada de vegetales, puré de manzana, mirasol pepper sauce or Patagonian lamb braised, roasted Andean potatoes, turnips, string beans and smoked bacon in broth and lemon and thyme, lemon gel (solanum tuberosum , ullucus tuberosus y oxalis tuberosa). In some dishes, it is specified native species that are used, as in the case of Patagonian lamb accompanied by potato species indigenous to Latin America. This use of location-specific ingredients gives the dish a great cultural richness.
Desserts include dishes like squash, sweet potato and Cayote in syrup with brie cheese, crispy translucent, squash coulis and citrus bread or Soup ganache of organic bittersweet chocolate of origin and spices with caramelized pineapple, pineapple sorbet and shortbread base. A culinary experience is not complete without a glass of wine and in Puratierra's winery are only wines from boutique wineries, with some exceptions. Each wine is chosen with the same idea and dedication that is applied to all of Puratierra's products. Each wine is selected to provide the best experience for the diner.
Molteni understands that "to present new things to a traditional market, is little by little, through a story, approaching the audience; telling them that story not only feeds them, but also generates changes in our regional economies, in our culture, in our diversity and openness to the world, among many other things, which generates the gastronomy".
We all have our secrets and Puratierra is no different, Molteni says that they "often do not tell them everything that we serve, but we do so knowing that principally what we do is very tasty and will surprise you pleasantly, and the discovery starts from there".
All this led to the restaurant to win distinctions, such as being included several times in the Latin America's fifty best restaurants of San Pellegrino guide.
Puratierra is more than a restaurant. They also offer catering services and programs for local food and wine tasting.  These are offered to a group of honorees, amateurs or professionals in a day where knowledge of this fascinating land, special wines and cuisine full of Argentine flavors are blended. Molteni thinks "chefs today have the function of being communicators of what happens across the country, setting up dialogue between producers and consumers".
Monday to Saturday at eight in the evening on 1167 3 de Febrero street in Belgrano, Puratierra opens its doors to provide a close experience for all the senses.