In a world where fast fashion apparently dominates the scene, slow fashion makes its way as a philosophy of responsible clothing consumerism, raising awareness of its environmental and social impact. The pillars of this movement are: the manufacture of small series of products, sustainably and locally produced, without paying attention to ephemeral trends and the recycling and upcycling or the use of vintage garments in order to extend the life of the objects. When it comes to consumers, slow fashion encourages the conscious assemble of a wardrobe of fewer clothes, with timeless design and high quality, in order to stand the test of time.
This motto is the core of Paula Gray's work. An Argentinean benchmark in sustainable and ethical fashion, Gray has been working in said field for more than 15 years. She was one of the first Argentinean designers to develop a homonymous clothing and accessories label characterised by following this different rhythm. In spite of avoiding the rush of trends, her creations have a fresh and modern style.
With a diverse education and training in a learning process that never ends, Gray has a holistic vision of fashion. She worked hard to gain knowledge in finance, corporate social responsibility, sustainable environmental development, entrepreneurship in emerging economies, and fashion marketing. Over the years, she lived in Chile, México, and the United States of America, where she casually discovered eco-friendly clothing.
At the same time, she also runs the Gray Ethical Fashion Advisory, a company which aims to help other projects in joining a green and fair model, promoting sustainability in both the public and private sectors in Latin America. The agency provides consulting services on the sustainable business and supply chain through workshops, coaching, conferences, and custom trainings. The client list includes large multinational organisations, small companies, Non-Governmental Organisations, non-profit groups, and designers, amongst others. We had a conversation with Paula Gray to find out more about her undertakings.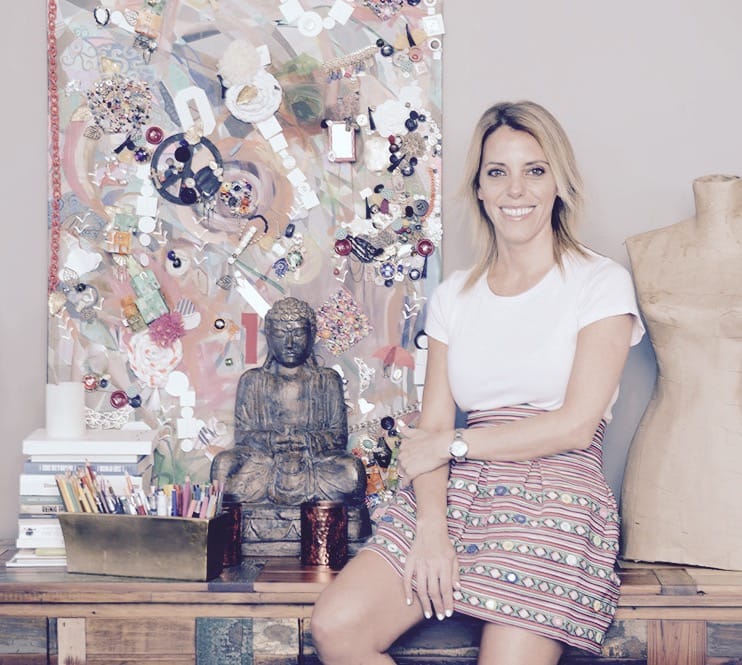 What was your personal introduction to the fashion world?
I've always been curious and felt close to fashion. I liked experimenting with it when I was a little girl - as do many girls, I believe. Past that, my grandmother and mother are really smart and they understand it. Thus, I think that my interest has a lot to do with them and with adding value to the fabrics and dressmaking beyond the mere beauty of a garment in a hanger. The same happened with accessories; I was drawn to that world in a ludic manner since my childhood. I even started designing in my spare time, drawing entire collections in old notebooks.
How did you decide to take the road of sustainability and slow fashion?
I was at a supermarket in Los Angeles when I discovered this world that existed, beyond food and the beauty industry. By then, I was already dedicated to fashion as well as the reuse of materials. For instance, I used to apply embroidery techniques back then, such as the ones applied by Oaxaca embroiderers, fused with Swarovski crystals and semi-precious stones that came from vintage accessories, to embellish cotton garments and vintage cloths. So, I started researching and became more familiar with sustainability, on a deep and professional level. I started to explore, to be trained and specialised on this field from that day on.
How do you put your collections together, based on sustainability?
Personally, I can't conceive fashion without sustainability as a premise. It is the trigger and is present in every link of the chain and comes in a natural manner to me, within our purpose and values. Apart from that, the process begins with the materials that are introduced to me, and not the other way around. That is to say, this is my challenge when I lay out the proposals.
What is your inspiration when creating garments?
I think about free-spirited and unstructured women, but also take into consideration comfort and the need for each piece to last an extremely long time inside the closets of users. And nowadays we consider men too because we have included an accessories line for them.
What materials do you use?
We prioritise eco-friendly elements, which are complex to access in Argentina. Furthermore, our paradigm is not to generate more waste during the productive process. In consequence, 90% of our raw materials have a reused origin and we apply the upcycling method through a previous process of restoration (which is pretty exhaustive but highly gratifying).
What was the origin of Gray Slow and Ethical Fashion Advisory?
It came up due to the demand of some companies and institutions. I believe that it was a matter of time, because I used to put together advisory works in parallel with the development of the collections for the brand. I mean, I was being called by other brands to produce sustainable products, or by educational institutions or larger companies in order to dictate training courses, workshops or be part of lectures.
In my view, the academic sphere is enriching, forcing me to be in a constant movement and learning process. The reason is that sustainability undergoes permanent changes and the investigations' results differ from those of the last year. Let's say. In this sense, the requirement to surpass my client's expectations and be up-to-date with what is happening at a global level helped materialising the agency.
Nowadays, we are able to work with undertakers at the beginning of their projects and brands, who would like to incorporate sustainable measures in their companies. We also collaborate with corporations, schools, universities, organisms of the public sector, etc. They all want to incorporate sustainability in their agendas.
Actually, my focus is on the Agency currently. I feel the personal need to give young people the tools and information that didn't exist when I decided to follow this path.
What do you think is the potential of ethical and sustainable fashion in Argentina?
Taking into account the Latin American scene, we are behind several countries. I feel very strongly that we won't be able to position our market with competitive advantages in order to stand out worldwide unless we develop our own sustainable raw materials, considering the tremendous resources Argentina already have.
Besides, it seems to me that ethical fashion is being addressed a lot more in the recent years, but we still have a long way to go. Nevertheless, I am optimistic. Curiously, I receive more and more e-mails from students that are developing their thesis on the subject, which is personally taken as a great and marvellous indicator. Apart from that, policies and incentives are required to encourage entrepreneurs to embrace sustainability in their projects and businesses.
"Sustainability is something extremely serious and requires criterion, study and responsibility beyond the social, business and ethical aspects. Furthermore, it demands transparency, passion and conviction".

Paula Gray
What would you advise to someone who wants to launch their own sustainable and slow fashion brand?
I would recommend them to start training and take it seriously, not to limit the research to read a couple of books and answers from a search in Google. Sustainability is something extremely serious and requires criterion, study and responsibility beyond the social, business and ethical aspects. Furthermore, it demands transparency, passion and conviction.
My journey doesn't have fashion as the sole ingredient; I have postgraduate studies and certificates of advance studies in environmental care, business, economy in developing countries, behaviour, corporate social responsibility, etc. In other words, keeping only the fashion side of it is a huge mistake. Unlike "traditional non-sustainable" fashion, science is present here on a daily basis and the approach of design is holistic.
What are your projects for the future?
These days my focal point is centred in the development of the agency and to the goal of expanding it regionally, in Latin America. We have some exciting projects in works. And obviously, to keep on specialising myself on the subject; to learn, teach and promote sustainability in several spheres.