by Clara Lozano Alberú
With the bloom of new gastronomic trends in the last years, tasting menus have been in vogue at fine dining restaurants around the world. A tasting menu consists of a number of small portion dishes served as a single meal. Tasting menus are an interesting sampling of a chef's world. For those who grew up going to restaurants and ordering from the à la carte menu, trying a tasting menu could prove a very challenging feat. To decide to go for the chef's tasting menu, in effect, is an act of faith. You must trust that the chef will treat you, and expect to be pleasantly surprised and delighted. Going for the tasting menu is also like traveling. Actually, it's more like traveling way off the beaten path; you don't know what you will find around the corner.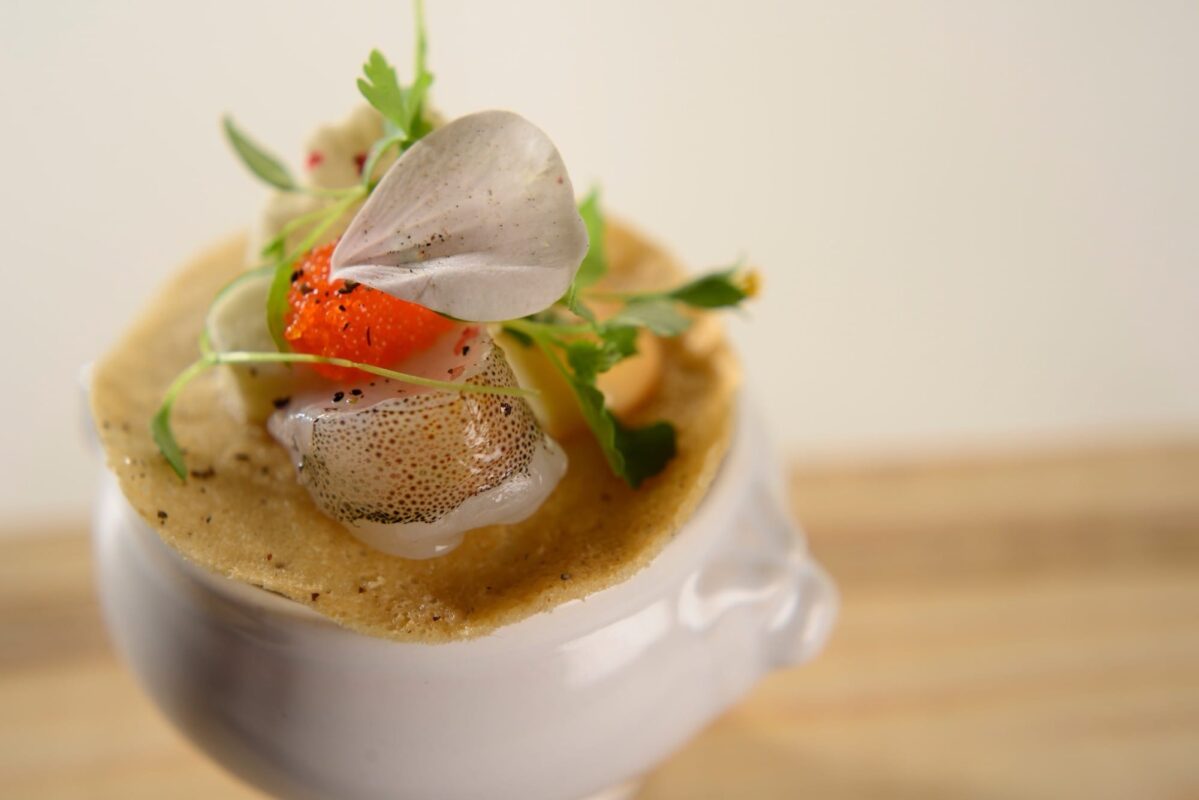 Accepting to go for a fine dining chef's tasting menu can be a promenade, a voyage, even a wild trip. After all, it's not every day that you can eat in one meal a deconstructed version of chile en nogada, a quenelle of olive oil ice cream with your salad, or a black pepper cheesecake. Some chef's tasting menus often include molecular cuisine, a fairly recent style of cooking, widely used by the new gastronomic trends, and which is actually classified as a science. Molecular cuisine explores new possibilities of cooking by modifying ingredients either chemically or physically, like using alginates for spherifications, making milk paper, or an oil earth, for instance.
There are also new technologies that contemporary chefs use besides more traditional ways of cooking to create delicious stark contrasts. Sous vide cooking, for example, is a method where ingredients are vacuum-sealed and then cooked in a temperature-controlled water bath over long periods of time. The result of sous vide method are ingredients cooked to perfection that are flavourful and nutritious, because they keep not only all their nutrition qualities but also their juices. There are many other techniques, like dehydrating, smoking, freeze-drying, amongst others.
The chef's challenge and mastery is to create new beautiful ways of pairing flavours, textures, scents and temperatures. A chef must find new ways to seduce his or her diners. They are artists and their job is to communicate their passion through their food. Their creation has to be balanced with soft, moist elements, as well as crunchy ones; same with flavours, they must all combine to make that one delicious dish. The dishes are also beautifully presented using colour gels, foams, flowers, pearls, textures, and shiny creams to highlight their sometimes unusual designs. A tasting menu then, is like a sensual voyage. It's an experience that can hardly be deleted from our senses!
I'm always thrilled when I discover a restaurant that has an interesting offer where the research and passion behind the food is clear. I love going back over and over. I take pleasure in having my little secret and sharing it with a few people only. The thing is, secrets can't be kept for long…
A place like that quietly opened in Guadalajara, México, back in the year 2011. When it happened, it took everybody by surprise. It was the first restaurant ever in the city offering a unique kind of food in the city: a whole new gastronomic trend. Seeing that there was opportunity for new ideas, other restaurants opened, some had their own original offers. And many others followed. Lula Bistro started as a trendsetter and what happened was, that this new culinary movement changed Guadalajara's food scene forever. Today, the city is a celebrated gastronomy capital in México.
Set in a Spartan environment that had been a double height warehouse in a quiet tree lined street, Lula Bistro started as an unpretentious eatery offering gourmet quality food to its diners. People were curious about Lula Bistro's food and, although some of them were surprised by what the menu offered, always enjoyed the different kind of cuisine this restaurant had, with its beautiful and unique presentations, like a work of art. It was something most of them had never tried before. The new gastronomic trend was establishing itself in this city.
Lula Bistro was the first restaurant in Guadalajara to offer a tasting menu, an interesting array of small bites of the chef's creations, of the chef's mind, of deconstructed food and absolutely strange and yet wonderful flavour pairings, like a coffee blue cheese chocolate fondant, for instance. Talk about an experience!
From day one, Lula Bistro has been a reference to new gastronomic trends not only in Guadalajara, but in México, setting a high culinary standard; its menu changes often seeking the freshest ingredients as well as new produce to experiment with. It's always improving itself and offering fresh new ideas that can be admired, sniffed, tasted, and enjoyed. 
It's delightful to see cities like Guadalajara flourishing in the culinary area and positioning themselves amongst the best gastronomy capitals of the world. The interesting thing is that this new world gastronomic trend is evolving all over the globe, only to offer us the opportunity to experience food from a different perspective, since it it will not only nourish our bodies, but also delight our senses and expand our universe. Next time you are offered a tasting menu at a restaurant, don't hesitate and go for it, you will be in for a delicious experience for sure!
This article is a guest post by 
Clara Lozano Alberú
Twitter: @lulabistro   
FB: Lula Bistro
Instagram: lulabistro
Website: www.lulabistro.com