In 2007, three artistically-minded creatives from Sydney, Australia, came together to form the Moogahlin Performing Arts Incorporated, an Indigenous Australian performing arts company that facilitates and showcases a multitude of First People's artistic projects ranging from theatre performances to film, video installation, visual arts, music, and photography. Born in the suburb of Redfern, Sydney NSW, the company holds a strong vision as a leading organisation that produces local, regional, national and international art projects by Aboriginal people.
Sharing the common ground of identifying as First Peoples of Australia, the founders of Moogahlin Performing Arts Inc. Lily Shearer, Frederick Copperwaite, and Liza-Mare Syron came together in collaboration, using their diverse backgrounds in performing arts and indigenous community involvement to create a platform for what is essentially a space for traditional and contemporary Aboriginal storytelling.
"I lead a lot of the community projects, as I'm very passionate about community stories, rejuvenating cultural memory and building community capacity in the creative industries sector, as ART is WORKING LIFE for us. You can't separate Culture and Art like the western ideologies, as they are one in the same that are integral to our being, our existence," says founding Co-Artistic Director Lily Shearer.
The idea for the company was created through the vision of the late Uncle Kevin Smith, a First Peoples artist who worked across the indigenous performing arts sector, in areas which included theatre, film, comedy, and voiceover. Since gaining Australia Council multi-year funding in 2017, Moogahlin Performing Arts Inc. has grown exponentially and operates as a full-time performing arts company with year-round projects.
"Moogahlin now has projects all over the state of NSW, we have the ONLY First Peoples-led national gathering and exchange through the Yellamundie National First Peoples Playwriting Festival, a biannual event, and work internationally with partners who produce a similar festival in Aotearoa (New Zealand) and Turtle Island (Canada)," says Shearer.
In 2014, the company became a resident at Carriageworks, a contemporary multi-arts centre in the Redfern/Waterloo precinct, and in 2015 became a company-in-residence at Blacktown Arts Centre, Sydney.
"We've taken it step-by-step and project-by-project since then, building our expertise and skills in the creative industries, particularly First Peoples Sector to grow the company to what it is today," says Shearer.
Moogahlin employs over one hundred artists and arts workers each year and creates pathways for Aboriginal communities and theatre makers in NSW. The company facilitates acting classes, scriptwriting and storytelling workshops with high school students, adults, and local elders. The artist's development programs create new works in playwriting and composition by emerging as well as established indigenous artists.
"Moogahlin engages with NSW First Peoples audiences, theatre makers and artists, through our annual program of activities by developing and presenting new theatre works that speak to First Peoples stories," Shearer explains.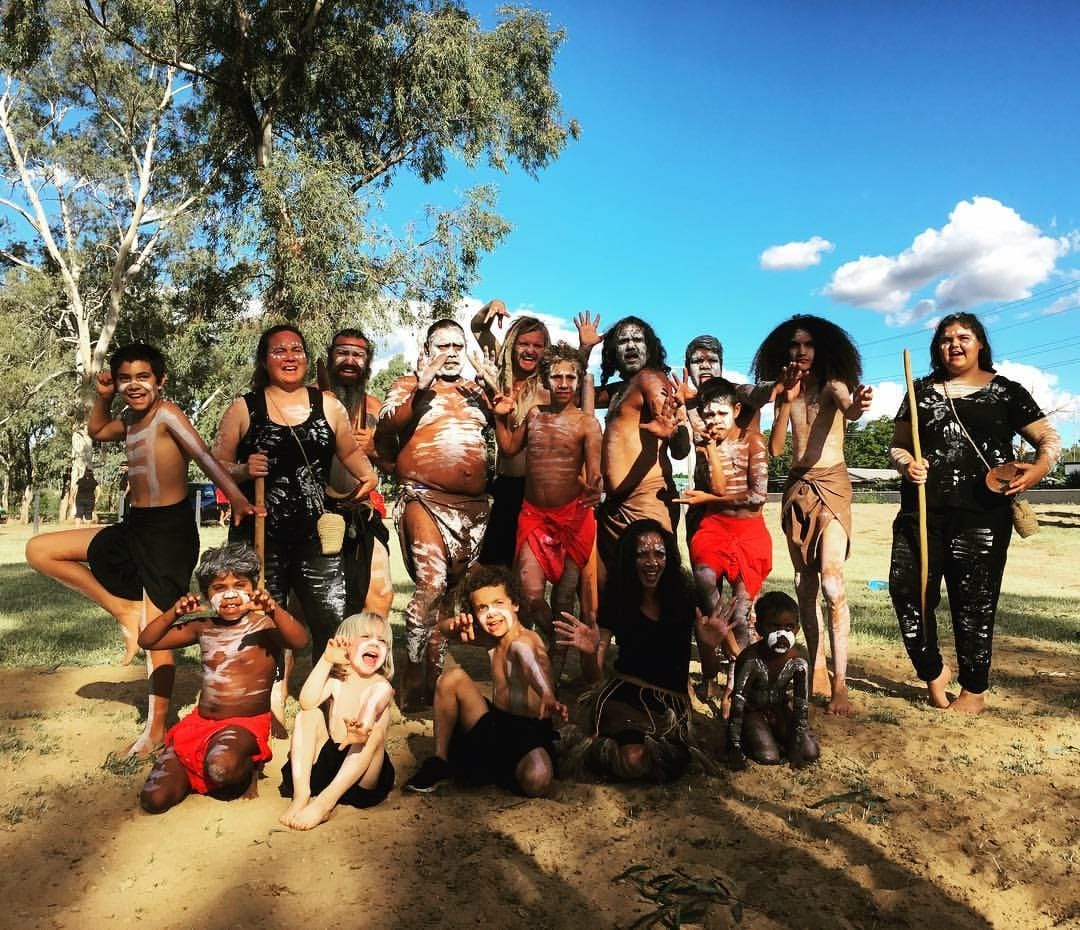 In April of 2017, Moogahlin held the Festival of Baiame's Ngunnhu, a festival of ceremony and celebration in Brewarrina, NSW, which acts as a voice for the Aboriginal people of the region. The multi-arts performance festival promotes First Peoples led social inclusion and artistic participation, and showcases the inspirational stories from the local indigenous youth, community members and elders of the Ngemba, Baranbinja, Morowari, Kula, Naualko, Ualarai, Weilwan, Kamilaroi, Kamu and Paarkinlji communities.
Having the opportunity to be involved in cultural arts projects that allow the stories of the First Peoples to be told, is what rewards co-founder, Shearer. "Mentoring and nurturing a new generation of artists and arts workers is humbling and rewarding, especially when you're surrounded by a circle of Elders to yarn with for advice, guidance and support, a very important value that we hold in high esteem as a company," says Shearer.
With its continually expanding creative force, Moogahlin Performing Arts Inc.'s future endeavours will see new projects in stage, documentary film, music composition, cultural arts, and community development.