It was a rainy afternoon in Buenos Aires when I arrived at one of the old buildings that are left in the city. A charming staircase rose ahead of me and a vintage piece of furniture with a mirror revealed my host: Cecilia Gadea. She is a graphic and clothing designer, teaches at Palermo University (UP) and is part of the first generation of Author Design in Argentina. She launched her own label in the early 2000s, after having worked for other companies. Afterwards, she received the Tijeras de Plata (Silver Scissors), an important award given by the Argentinean Chamber of Fashion, for the New couture category in 2005.
Gadea participated in the Ibero-American Biennial of Design (BID) 2016, which took place in Madrid last year. She was also recently part of the cycle "November, month of design and textile innovation" at the Cultural Centre of Science (C3). Ten creative duos, gathering scientists and designers, created pieces to unite fashion and science research. Gadea collaborated with Luis Cappozzo, Ph.D., a marine biologist, on a piece inspired by ocean life. So, she's always up for a creative challenge or alternative way of expression.
Gadea's garments have a distinctive look that is deeply rooted in the past while using embroideries and laser fretwork to intervene in the textiles as a signature. Consequently, her work shows an ethereal and romantic aesthetic, with one eye on past fashion and the other on present techniques. We sat at her studio, surrounded by clothes racks, and had a pleasant conversation.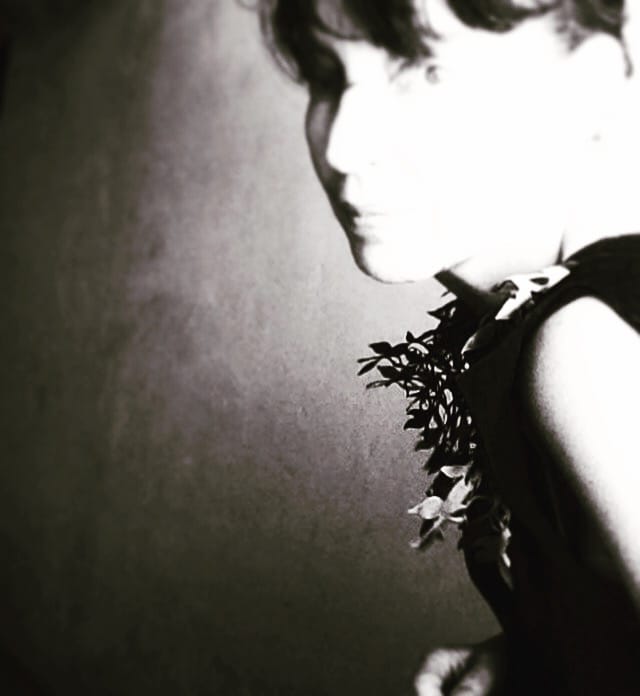 How did your academic training as graphic designer and your love of photography influence your career?
My academic training as a graphic designer influenced my approach to clothing and the construction of my own language. It is translated permanently in my textile research through laser fretwork, embroidery and the appearance of fonts as a re-signified form, as a modern lace. Basically, the re-signify and reappraise of craftsmanship is always present in my work process.
I was academically trained as a graphic designer and then I studied clothing design. My first important step was having won the Tela and Talento (Fabric and Talent) contest in 1994. This was a competition for young designers that was organised by Alpargatas Company. As a prize I obtained a scholarship to study some courses at Central Saint Martins School of Arts and Design in London. Then, I worked as a designer for several companies of the market before launching my own undertaking. I consider this as a significant period of professional training for me.
Finally, I find a register of fragments of history, spaces, details, characters and epochs in photography (taking into consideration the images captured by me as well as the ones I collect). They all get connected, fused with each other and give shape to my own universe of pictures.
Why did you decide to follow the path of fashion?
Body and clothing, as a space for expression, textiles and textures; they have all attracted me since I was a little girl. My introduction to fashion was an answer to a search for a way of expression; something that began intuitively and then was transformed into a language and took the shape of a clothing brand.
My collections are like tales that talk about small things: sometimes autobiographical stories, others, about Buenos Aires at the beginning of the twentieth century, about my vision on femininity, etc. Clothing design is my way to tell a story, to transmit a message about themes that I feel interested in or that move me. This allows me to generate feelings and emotions. I'm a storyteller that works with textiles and garments.
Spending many of my childhood afternoons with my grandmother, who was a dressmaker, also influenced me. I have memories of being surrounded by cloth and patterns during the evenings, playing with her box of buttons. I drew my first fashion sketches in chalk on the tiles of her patio.
What does it mean to you, to be a part of the first Author Design generation?
When I started working as an independent designer, everything was to be done. Starting with the necessity to establish the role of the designer or creative person as an element of value within a company, as someone who contributes with a vision, instead of someone who merely copies trends.
The designers who came up with independent proposals at the beginning of the year 2000, we were the first ones in taking a step to transform the design of something with simple aesthetic value, to show commercial creative undertakings.
Those were projects that arose from the desire to do something, from the belief that there was something new to be done; and in an extremely intuitive manner, with few resources, striving by all means, with lot of perseverance. We had no counsel regarding business plans or projections, nor similar commercial models to emulate. It meant learning from our mistakes, season after season. At the same time, these difficulties let us carry out individual searches and find our own ways to customise our textiles. In my case, I achieved a personal stamp on my fabrics due to research and the use of both laser fretworks and embroideries.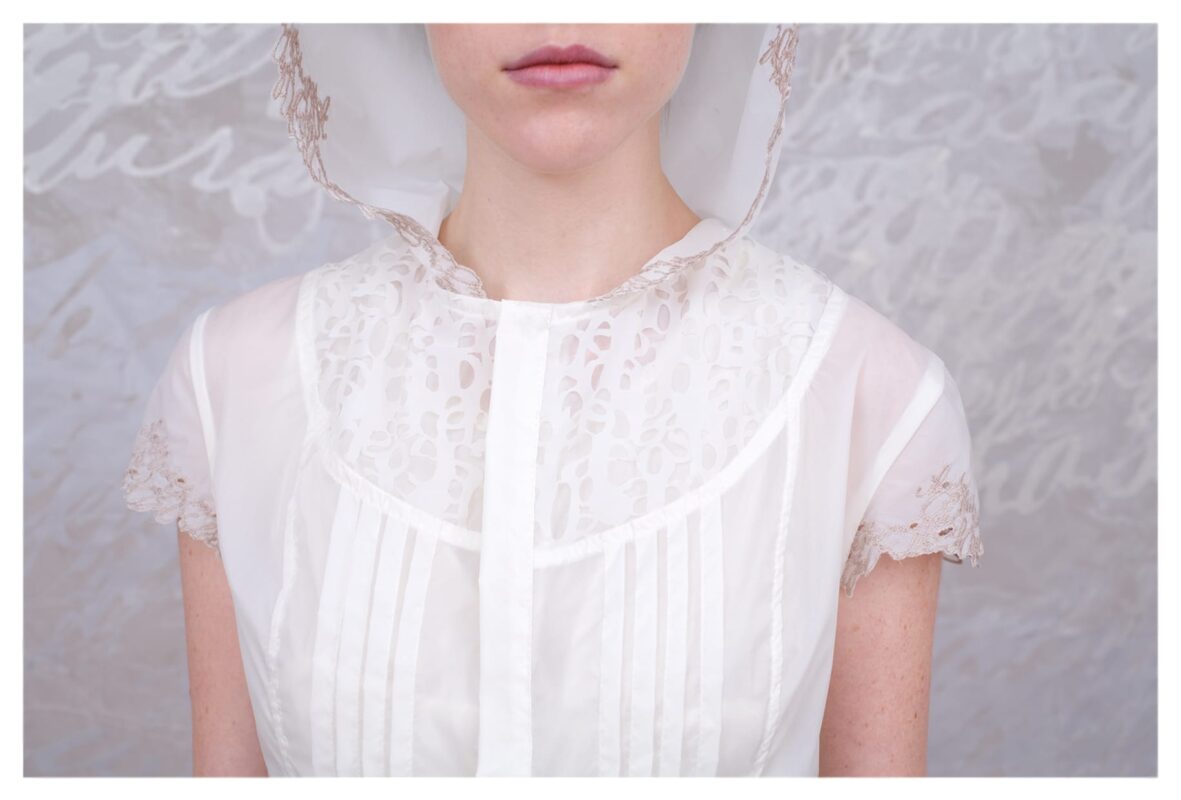 What do you think is the reason behind your infatuation with the first half of the twentieth century?
I believe that it has to do with my admiration for artists, muses, literature, architecture and thought of that epoch's avant-garde. Anyway, my muse is the present women, but with a timeless spirit. It might as well be the person portrayed in a 1920 photograph, living in today's city. I'm interested in this crossroads of periods, in re-signifying them and, thus, giving my clothing pieces timelessness and durability.
How do you combine that strong reference to the past with current methodologies and techniques?
That crossing is precisely what I'm interested in: that superposition between the old and the new. Past and present are fused together and become timeless, gaining a new use and meaning.
This is my aim when it comes to textile development. I make use of techniques from past eras, such as the use of looms where broderies or lace edging are traditionally made for bedclothes and I embroider my own bases, taking broderies and guipures to other rubrics. Then, I embroider cloth, denim and waterproof materials, giving them a new value. On the other hand, industrial and cutting-edge techniques, such as laser, are used in a way that remits to the past and artisanal work, generating a contrast and the convergence of epochs.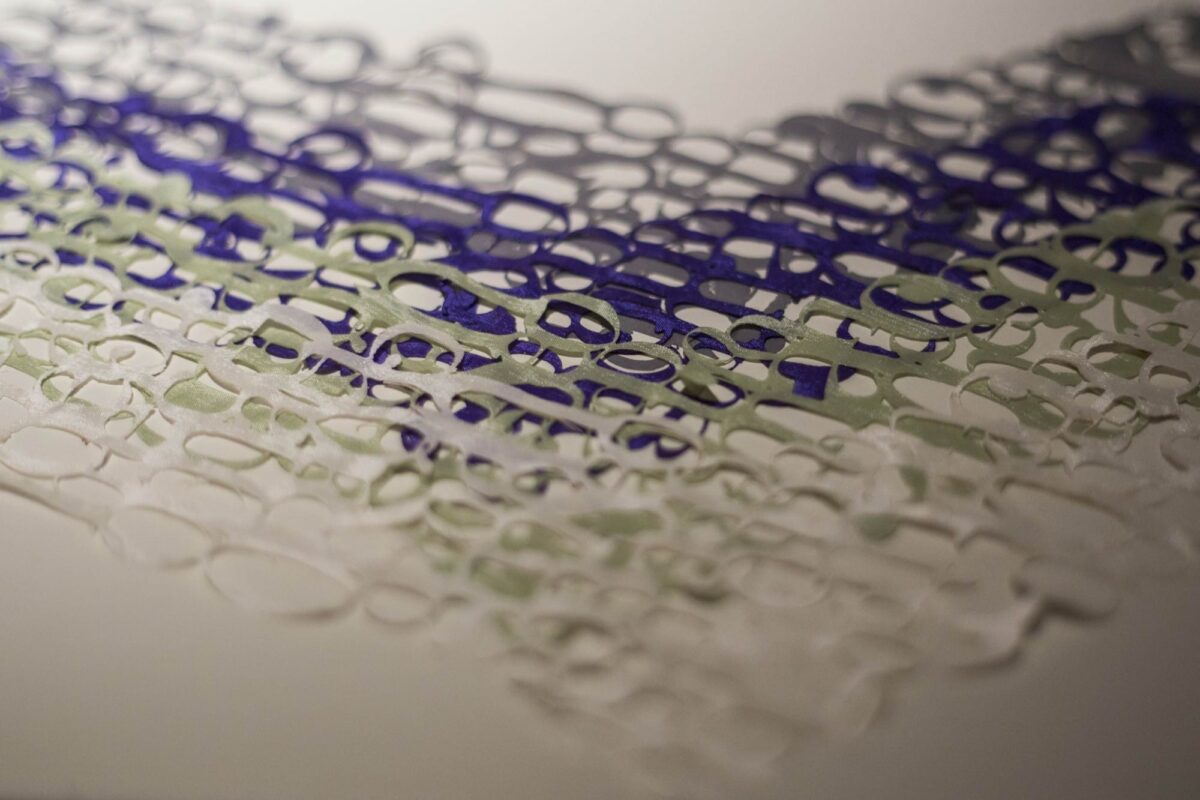 How did you end up working with laser fretwork? How were the first experiences and your evolution with it?
I learned about these techniques at the end of the '90s, when I was working as a designer for other brands and still hadn't created my own project. At that moment, laser was used to cut all embroidered logos and great scale patterns on cloth. I was able to investigate new uses and explore the techniques to make them part of my own language, by visiting the factories and watching the machines work from up close. It meant learning a new technique, its possibilities and limitations, to be able to transmit my ideas to the factory and that they would be able to interpret what I wanted to do.
I enjoy a lot the visits to the textile factories; inspiration frequently comes from there, in the textile kitchen. In fact, when they see me coming they greet with the phrase "let's see what madness have you come up with now!" Then, the madness becomes a challenge and, finally, a joint happiness when we see the result on the cloth!
I keep investigating and re-signifying my own universe. It is a permanent challenge and what drives me to go forward. In my opinion, it is not only the use of a resource that defines a designer's identity, but how all these items that made up his/her universe are assembled over time. That is what turns them into a language of his/her own and makes them recognizable.
What was it like to unite fashion and science through the collaboration with Luis Capozzo for the Month of Design and Textile Innovation?
I love participating in these kind of multidisciplinary projects, where knowledge is combined and two different outlooks are united to transmit the same idea. It is deeply enriching. In this particular case, bridges between science and fashion, was a really interesting experience, a learning moment and a challenge. From two different viewpoints and universes, I found many conceptual coincidences. It was really clear for both of us what was the message to transmit with the piece.
Part of Luis' job as an investigator has to do with communication of scientific contents. Therefore, the idea was to create a garment that would function as a bearer of a message, as a metaphor that would call to reflect on the care of the vital resource that is the ocean. Talking about the ocean and the marine universe is a recurrent theme of my collections, but this time it was developed from the reflective perspective.
Taking into consideration the aesthetic side and textile innovation, the creation of this piece allowed me to explore new techniques, to generate volumetric pieces with transparencies that were assembled into the textile. Moreover, it triggered endless ideas and question marks regarding textile tests and developments that I would like to explore based on water and the reuse of marine remains: what comes to the seashore, what the tide leaves on the beach (like seashells, corals and marine plants).
What are you preparing for the Autumn-Winter 2017 collection?
The collection is inspired again in the use of the weave and its iconography to generate fret patterns. Woolen weaves, created in an industrial way, appear combined with other materials and typologies from outside of the knitwear rubric. It usually happens that a season is too short to explore a resource or an idea, so I keep following them, adding new ideas and seeing an evolution related to the subject.
What does 2017 hold in store for Cecilia Gadea?
I am preparing a series of pieces to commercialise at my atelier in May, as a capsule timeless collection. I am also developing more conceptual pieces for September, with the intention of displaying them at an art gallery, as an exhibition. As time went by, I discovered the pleasure of making these ludic pieces that can be used or showed in a more "artistic" manner, so to speak.
Credits for Botánica's photo-shoot
Photographer: Gisela Filc
Model: Sofía Coria
Make up & hair: Leticia Martínez Berg