On November 11, 2017, the Louvre Abu Dhabi will make its long awaited debut. The Middle Eastern offshoot of Paris' iconic art institution features a soaring silver dome on Saadiyat Island's seaside promenade. As its website says, famed French architect "Jean Nouvel was determined to celebrate Abu Dhabi's location between land and sea, as well as its traditional Arab architecture". 
The dome appears to float above the entire museum-city (although it weighs approximately 7,500 tons, the same as the Eiffel Tower) and it is a geometric structure of 7,850 stars, repeated at various sizes and angles in eight different layers. "As the sun passes above, its light filters through the perforations in the dome to create an inspiring effect within the museum known as 'the rain of light'. This ode to nature and the elements takes its inspiration from the palm trees of Abu Dhabi," the museum's marketing material says.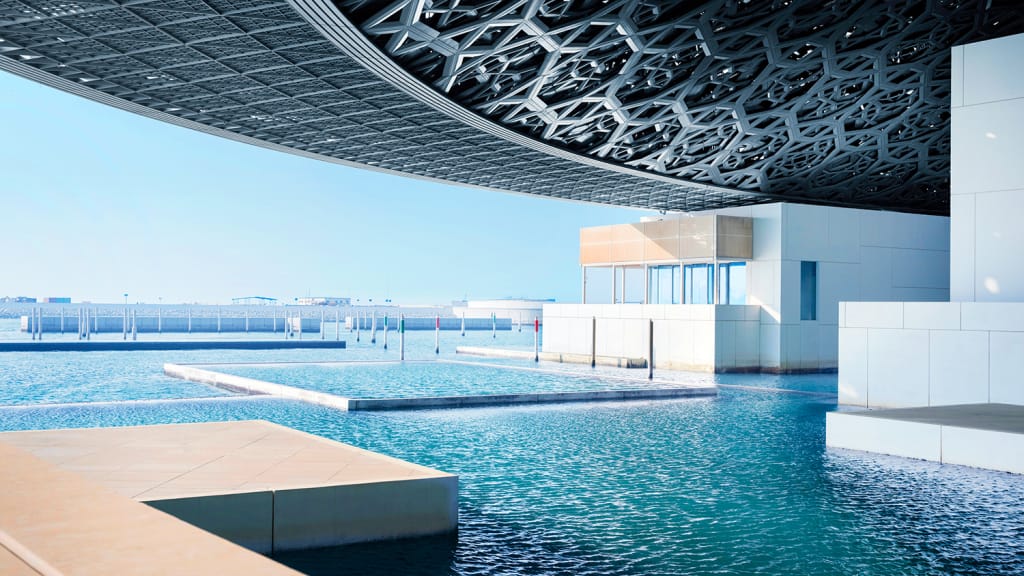 The museum is a mini-city made up of fifty-five buildings and accessible by land or by sea. Twenty-three of the buildings are low-lying and reminiscent of the homes in the region; it is these buildings that contain the galleries. A permanent collection will span the entirety of human existence, from prehistoric objects to contemporary artworks and will include themes of universal religions; maternity and funerary rituals across cultures; and artistic exchanges on trading routes during the medieval and modern periods. Works by masters like Manet, Mondrian, and Gauguin will also be on view. Certainly, there will be something for everyone—and that's the idea, as the museum plans to host an inaugural exhibition entitled From One Louvre to Another: Opening a Museum for Everyone.
The Louvre Abu Dhabi aims to be a universal place, which they define as "focusing on what unites us: the stories of human creativity that transcend individual cultures or civilizations, times or places". The galleries are separated by chronology (not geography) with the goal to inspire respect, curiosity, learning, and self-reflection. 
So this autumn, if you're looking to travel somewhere warm that's full of culture and art, consider visiting the Louvre Abu Dhabi and experiencing its incredible architecture and centuries of human ingenuity and creativity.