Immediately upon entering Krethaus' brand new showroom in Buenos Aires, one gets a sense of the relaxed yet bustling atmosphere. Krethaus handmade furniture design produces, sells and conceptualizes the lifestyle of a young family. Just a few seconds in the showroom clearly displays the familial warmth that is a feature of all their designs. The brand was created by a family, for families, and it all began with two sisters: Karina and Vanessa Kreth.
The architect Karina Kreth started the company after spending twenty years as an art director. She decided to go back to interior design, and at the same time began designing furniture for the room of her second newborn son. A boutique in the neighborhood of Palermo that specializes in décor for babies and children asked her to develop a product for them. Her first design was a crib that was very popular. Kreth discovered that children's furniture was an underdeveloped niche in Argentina. After that, Krethaus began to take shape.  Convinced that the commercial side of business was not her forte, Karina invited her sister, Vanessa, who had just graduated from law school, to complete the basis of the brand team.
Like all well-executed ideas, with hard work and enthusiasm, good things began to happen. In 2013 Krethaus' first big opportunity to display internationally was given by Paola Noe, curator of the exhibition Kidsroomzoom, who invited the brand to participate in the exhibition at Fuorisalone during Milan's Design Week. Kidsroomzoom is a traveling exhibition  dedicated entirely to children's universe. It provides a snapshot of contemporary design and  art works for children. This fair would be the first of many that would lead to the current deal with Perludi. Based in Graz, Austria, Perludi is a personally managed company that places children and their families at the core of its work. The European selection of the Krethaus collection is entirely produced in Europe under the supervision of company manager, designer and creative director Thomas Maitz.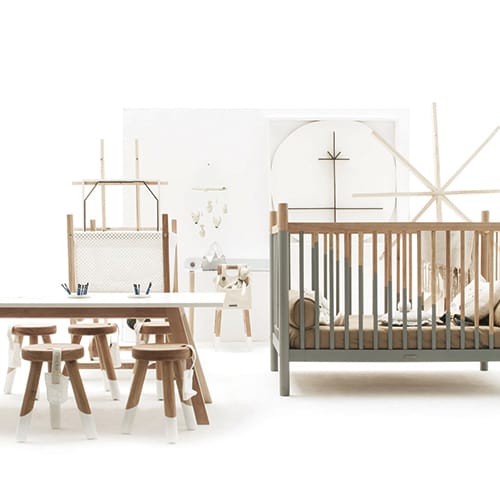 Today the brand has over eighty products that form the world of the brand and of many families in Argentina. The products range from furniture like crib storage and tables to textiles and accessories like bedding, cushions, wallpaper, baby goodies and more. The amount and variety of these high-quality products is what makes Krethaus unique. It is not only furniture design that they offer, but the ability to create a world. Krethaus understands that the room of a child is not something separate from the rest of the home but is conceived within the family universe. The brand presents products designed for all family members, not just young children. For example, take the Maxxi Table, from the Nido Collection; it's wide and the perfect teamwork table for the whole family.
Creating entire worlds is a job that takes an enormous amount of effort and a great ability to see the needs and forms of interaction of family groups. Kreth finds her inspiration from being constantly alert to all the cultural changes that are generated in these interactions.  It is imperative to understand the design without neglecting its history and the reasons for its evolution. A big part of this story is the Bauhaus School of Design, which inspires the technical and formal conceptualizations for each of her proposals. She emphasizes that the resulting aesthetic is a natural consequence of both her own process as a designer and the influence of the School. Kreth's alliance with Mary Jannello, granddaughter of the architect Cesar Jannello, was born from this vision and respect for history. The collaboration was made with the intention to reissue the famous "Chair W". In the 1950s, Cesar Jannello designed the chair, which consists of an iron structure and wooden supports. The alliance took shape in the form of a capsule line called Jannello EDITOR + KRETHAUS / Chair W (1951).
At the same time, Karina continues with large scale residential projects, since most of Krethaus' customers in Buenos Aires seek personalized attention. Karina complies by creating global designs and products with custom tailored solutions for their unique necessities, which constantly inspires new company products. These particular projects serve as a great creative laboratory for the exploration of new innovative ideas as much as their own family experiences .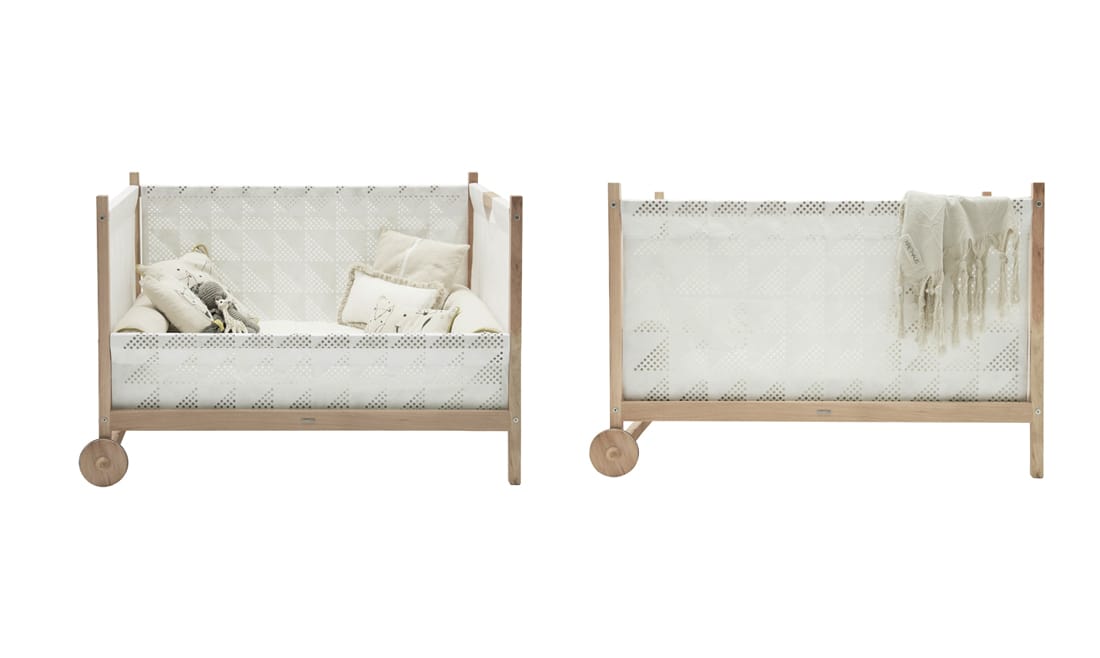 Krethaus handmade furniture design with noble materials
Krethaus chooses to work with noble materials from Argentina. All wooden furniture is made of carefully selected Lenga or oak of Tierra del Fuego which is a representative species of the Patagonian Andean forest in southern Chile and Argentina. This tree is adapted to grow in places where no other species tend to grow, so it is a species not at risk of extinction. It is characterized by light wood, fine texture, straight grain,  and is moderately heavy and medium hard, making it a strong wood. Traditionally, timber in Argentina works with dark finishes but Krethaus exploits the properties of each material by empowering them. In this way, the pieces are easily combined with different decorative styles of furniture. These high quality pieces do not seek to highlight themselves but to be part of the environment and meet the needs of the family.
The furniture sold in Europe is made with the same standards as in Argentina, except that Alder wood is used instead of Lenga, which is a tree from the same family with similar properties. The similarity of the wood and the supervision of Thomas Maitz enabled the brand to be marketed in Europe, Asia, the United States, and Latin America. Costs and export policies would have made it very difficult, almost impossible otherwise.
Additionally, Krethaus uses noble materials such as cotton, wool and bamboo for their accessories. Bamboo has very important natural properties when interacting with young children, as it is extremely soft, combats allergies, naturally contains anti-bacterial agents, is thermo-regulated and absorbs moisture.
The brand also uses Tyvek, which is a material based on fibers of high density polyethylene. Tyvek production requires very little power. It is an inert non-toxic material and 100% recyclable.
All products are woven and dyed with natural dyes and all finishing touches are done by hand, giving each object a characteristic and unique warmth.
Worried about having textile waste from the textile scraps, Krethaus decided to create an alliance with Severnia Kids, a brand that creates beautifully crafted collections of toys and objects for children. In this way the Little Fox Carpenter was created, and together the two brands create beautiful dolls, wreaths and craft phones with scraps of cloth. The Little Fox Carpenter also produces printed bedding, textiles and wallpaper.
These partnerships not only help expand the world of Krethaus, create beautiful objects, and work with the environment, they also help the brand to continue exploring new challenges. Karina explains that the brand has always focused on the interiority of family life, and intends to start bringing their design to the outside. 
With only seven years since its inception, the architect behind Krethaus has created a global idea of high quality handmade furniture design that promises to keep growing and surprising.