The Montreal winter nights are so cold you just want to hibernate inside and binge watch Netflix.  Picture -40 degree weather, add in an extra dose of wind chill factor because you are next to the water in the old port of Montreal making it feel even colder outside and thousands of people being totally fine with it, then you've made your way to Igloofest.  The music and fun experiences at Igloofest, Montreal's outdoor winter music festival seem to drive winter away from all the revelers' faces.
Take some advice from five-year veteran Annick Berard, "You dress F-in warm. I have so many layers on, two pairs of ski leggings, ski pants, two tops, a ski jacket, gloves, and two pairs of mittens on top, hot paws in my boots, and then I top it off with the funkiest thing I can find.  Today I decided to wear a giraffe onesie."
Other Igloofesters like Gabby agree, "You have to dress as creative as you can, just put a lot of color, a lot of layers, things that flash and it will be an awesome night."
Karine Dormoy even hand knitted her and her partner's outfits. Using dayglo rainbow yarn to make their sweater, mittens, and hats. If you can find the loudest ski suit from the '80s you will fit right in.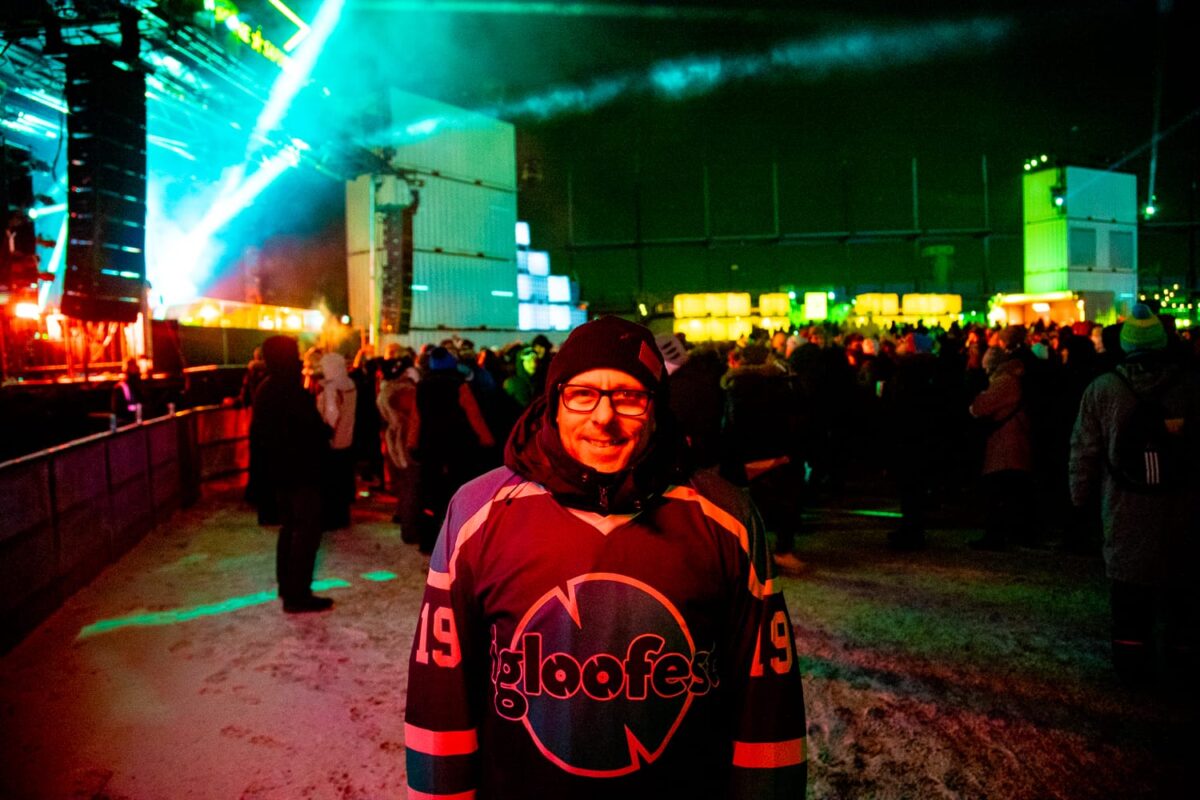 Co-founder Nicolas Cournoyer and his team give you an excuse to dance and party outside in the long cold winter. We caught up with Nicolas and he gave us the scoop on everything Igloofest.
BECKY - How long has Igloofest been around?
NICOLAS - It's in its thirteen season.
BECKY - How did you first come up with the idea to make Igloofest?
NICOLAS - We first did Piknic Electronik. It's a weekly event on Sundays during the whole summer in a park in Montreal. We wanted to take the electronic music and pull it from its natural environment. So more people can discover it. So, it's back in 2003, and electronic music was there but not really known to people. So, what we wanted was to democratize it. Make it accessible for people, for families to take kids, not to have those after hours places where, it's only few people that go there. So, that was the first idea. After a while, as the response to dance outside during the summertime was really, really, really good. We thought, okay we might do something a bit different. And we came up with the idea that why not do the same event, but outside during the winter. At first we laughed, a lot, saying it's a silly idea. But afterwards. The afterthought was, why not?
In Quebec, it's a national sport to complain about the weather, all year long, but especially during the winter time. So, we thought, let's give them a good reason to enjoy winter, to tame it for a lot of people, and to go outside. And what's the best reason? Doing a party. So, that's how we had the idea. We transposed the concept of Piknic Electronik to the winter time. So, we like the folk-loric aspect of the winter and the urban aspect of electronic music. And on this pier, there are all these old warehouses. So we had these metal structure that we can work. And Piknic is a day time event, and Igloofest is a night time.
BECKY - So, but I go to Sonar and Barcelona and I love how they do Sonar by day and Sonar by night. It's a very different feeling but all centered around electronic music.
NICOLAS - Yeah, yeah. But it was a different thing. What we wanted was not only to be a festival where you go to shows, and then just go back home, but to have a real experience with all the senses. Which is unique. So, music of course is really important. That's the main thing. For the visuals we're working with Montreal VJs. They're pros. And it helps a lot with the experience, because you're surrounded by those metal structures and containers and those lights. It's important. And then, the other one is the feel. To be dancing outside during the winter is something different as well. And the combination of all those aspects. You know there are activities that you can go, you can do on site.
BECKY - Like what activities?
NICOLAS - There are some slides. You can, there is activations with some sponsors, where you play tam-tams or competitions. We have ice hockey, we have different kinds of stuff over the years. But we wanted for people to play, participate. Go back in to your childhood. I want people to have fun. That was the main purpose. If we're outside freezing, then let's at least have fun. And in all those aspects make it a good experience. And that's the reason people like it, that's why a lot of people come from everywhere in the world to experience Igloofest.
BECKY - So, for 13 years you've been doing this. How can you keep innovating? So, what's something new that you added this year, and what are some things new you'd like to add in the future?
NICOLAS - As far as the bookings, I'd say that's the core of the events. So, if you go along with the trends, we have a broad selection of DJs. So, we're not in only one specific delineation of electronic music, but we'll follow, like I said, trends. Some years it was dubstep music that was really popular, sometimes techno comes back, some drum and bass, some trap. There is more and more blending with hip hip music, so we just follow the trends. But we have some old school DJs, we have Chris Leibing tonight. He's playing for several years but he's still a master.
Then we had Diplo and Above & Beyond, so it's more commercial stuff, but still people like them. So, we have some techno nights, We'll have RL Grime next week. It is more hip hop-
BECKY - How do you keep innovating? Continuous, you gotta keep going. So, what's something that you added this year?
NICOLAS - This year? What we brought this year is the volley pong. So, that's a big beer pong thing but with volleyball. So, you have that. We have the tam tam with which is a competition with people to follow the red.
We also play with the setup and how it's designed and how people get in. So, from one year to another it's not always the same.  For the first few years, the main stage was near by the building. But every year as we're growing bigger and bigger, of course the set up has change because it's just growing. This year the second stage is near the entrance. The average attendance is two thousand people per night. But yesterday the coldest day of the festival we were close to eleven thousand people.
BECKY - Amazing. Congratulations.
NICOLAS - So, the stage has to move back and back up to accommodate the crowds. Three years ago in order to have more space for people to dance. So, that's why. The layout really changed from year to another. Of course, the challenge with all those time to change is the weather. We had a lot of ice on site a few years ago and that worked nicely when we had an ice bar and ice sculptures but now with the warmer temperatures, the ice on the long stretch is melting. That's one sad part about the climate change, that the global warming is affecting us. This week on Wednesday, it rained for 24 hours and we had this nice fluffy snow and sculptures and fun things made. But we lost everything. We worked a lot, put back the site as best we can, But sometimes it's tough. Winter conditions is really something tough to deal with.
BECKY - Oh sure. But then it's unpredictable whether it's hot or cold. So, in thirteen years of winter, what is the coldest it's been?
NICOLAS - In fact, it was last Saturday. I've worked on the excel sheet this week to make sure. I've went through the thirteen years, and last Saturday was minus 23.4 celsius with the wind shield factor minus thirty one. It was the coldest. We've had other cold nights, but this one was really cold.
BECKY - And how many people showed up that night?
NICOLAS - It was an amazing night. We got 3,800 people coming in the hour. It was freaking cold. But still people are warriors here. Of course when you dance, it's all just stuck together. You get in the mood, and after you're moving its fine.
BECKY - So, what are some things that you hope to bring in for our future Igloofest.
NICOLAS - You know what? Today is the second year we're doing a little off-Igloofest. So, the event is in the afternoon from 2:00 pm to 7:00 pm with DJs and it's free. People just come and go in the activities, roast marshmallows.
BECKY - Is that trying to get like the families here?
NICOLAS - Yeah, of course. And to make sure to get our future clients.
BECKY - Yeah, of course. I think that's such a good idea.
NICOLAS - That's some things we would like to do probably every Saturday in a few years. That's the first day. We had a theory that to continue to have artist from all around the world.
BECKY - Speaking of all over the world, name some countries where the artists have come from.
NICOLAS - Yeah so. The first few years, it was more local DJs. And that's how we worked and grew. As they say, slowly but surely. But with the word of mouth DJs talking amongst themselves. The artist are always so astonished. Because how those freaky people are dancing in -10, -20 degrees. The energy. And interaction between the people. And that's something you need. And the other thing is that we got the idea of doing the event, say, okay during the winter time, we all look a bit ridiculous with the snow and the cold. Let's play that card the furtherest we can. And that's why we have that Igloo swag contest. So, snowsuits, flashy collars, those old school 80's ski outfits and year after year, we have that contest where there's some prizes. They can win trips sometimes. And people jump into it. And talk about it with friends and plan their outfits.
A few years ago we had people dressed up as those Lego guys? That was us. So, we got Teletubbies people, some Vikings. Of course, people make their own suits, because there's some thematic, and that's how, it helped in the spirit. You know sometimes, you go to a show, you're with your gang of people. You stay close together, don't talk with strangers. Those people who wear crazy colored winter wear clothes go up to each other make social interaction that wouldn't have had otherwise. And that's good for the spirit of the event.
BECKY - Great. It's so cold, you have to create some joy and happiness. And it's like taking a negative to a positive.
NICOLAS - And I told you, the first few years, we got the idea, we were talking about taming the winter, stop complaining, that was the idea. After a few years, we were really proud of people because people were now saying, I'm looking forward to winter because of Igloofest. It's like, okay we kind of succeeded on that aspect. Okay, we gave them that reason to enjoy, to dress, and go outside - and cause there's a lot of people who just stay indoors eat and are couch potatoes during those long winters, not doing anything. So, it's good for people to go outside. Breathe, enjoy your city, see a different side of the city and be social.
BECKY - Winter night time.
NICOLAS - Yeah, yeah. And there's no activities for the youngsters. For the 18 to 35 years of age. There's not that much of activities in winter.
BECKY - Sports.
NICOLAS - Yeah, if you do sports, yeah. You'll be outside the whole winter time. Unless, there's no party, there's no events outside. And that's a good reflection of what we can be. Even though sometimes people get lazy. And I always said, there's no bad temperature, there's wrong clothing decisions. So, if you're dressed properly, warm, multi-layered, everything is fine. You dance, you have a mulled wine, there's a fire pits. Everything's there to just warm up.
BECKY - Okay. What has been one of the biggest challenged you've had over the years, with producing Igloofest?
NICOLAS - Of course, weather. So, that's the main thing because it changed so much. Sometimes it's windy, sometimes it's icy conditions. It's tough on the technical stuff on all the setups to stay outside for weeks, that's pretty tough for people as well. The other challenge that we have, that we're experiencing the last few years, it's with the millennials. They don't go to events the same way that people were going before. They stay home and watch Netflix and chill.
BECKY - But, tickets are so reasonable. I was so surprised at how affordable your Igloofest is. You know, I'm used to going to festivals like $500 usd. How are you able to keep the ticket prices so low?
NICOLAS - It's tough. It's like I said, see when we have a lot of people, things go along. But like I said, with the millennials, they want to experience something different. So, they do it once, but then they think been there, done that.
BECKY - And that's how do you keep innovating, so they keep coming back?
NICOLAS - That's it. And that's why we're targeting more international people coming. Because if you want to experience, then that's the big trend these years. And that's why we're getting more and more people all over the world coming to experience the festival.
BECKY - I'd never heard of it until my friend told me.
NICOLAS - Oh yeah? Nice. That's the work we're trying to do. That's the work that people coming, they become real ambassadors. We have a group from Denver, we have friends in Burlington and in New York. They're all meeting in Montreal. Because we convinced them to come, and it's growing like that.
BECKY - Okay, cool. Is there anything else you'd like to say to our readers about Igloofest?
NICOLAS - You can go to summertime festivals around the world, with all the same DJs. If you want to experience something different come and check out Igloofest.  You do not even have to be an electronic music lover, and you would have a good time. There's a good beat for you to dance and enjoy. It's something you won't experience anywhere else. Because the setup is massive. And the people in Montreal, they like to party, they're in a good mood, you'll enjoy and you'll have a good time.
With three stages and something different every year. Igloofest is a great way to use the cold dark winter months.  Want to check out Igloofest for yourself?
Next Igloofest is January 16-February 1, 2020. More information and lineup here.