"From the wind, the distance, the acute weather… fast-flowing rivers, broad skies, immensity, distance and silence," reads the news sheet that sets the scene. Luz Arpajou and María Laura Leiva are the clothing designers behind Abre Indumento. They are considered new and valuable talents in the local fashion landscape. The label amalgamates clothing, art, and nature from its place of origin, Neuquén (capital city of the homonym province located in the Patagonian region of Argentina). As a result, its clothes become instantaneously connected to their context. Besides, each piece is made by Abre's own team under the watch of its creators (to verify a clean process), with noble raw materials and elaborated to be timeless and to endure the test of time. Once the piece is developed, Arpajou and Leiva believe that users make the experience complete, ending the cycle.
The duo studied clothing design at a school in Neuquén. Then, Arpajou assisted at Palermo University, while Leiva studied cinema and other branches of design and art expressions. "I went for learning the trade. I wanted to understand cutting and tailoring since I was seventeen years old, approximately, or earlier. Laura was interested in clothing and understanding the other side of it. Neuquén, Buenos Aires and La Plata were our training places," explained Arpajou.
In August of 2016, Abre was part of Pasarela BA's runway at Buenos Aires Fashion Week. Las partes del todo, es todo hasta ahora (The parts of everything, is everything up to now) was the name of its collection, and it caught the attention of the audience with its minimalistic tailoring that mimicked the image of a desert. Also, because it was one of the few times (if not the only) that models came in all body shapes and ages.
Their latest collection is called Mutisia, after a creeper plant, the provincial flower of Neuquén. The Mapuche legend tells that the daughter and son of caciques from two rival tribes fell in love, but they were incinerated to end their love. On the following day of their death, two unknown flowers were discovered at the same place, viewing east: Mutisias were born.
We visited Casa Abre, the duo's home and studio in Palermo Neighbourhood, Buenos Aires City. An ample, white and luminous house is the base of operations, where the creative process is open for everyone to see. They have created a rich universe profoundly rooted in Neuquén. They showed us Mutisia's secrets, and we had a warm talk with Arpajou about their undertaking.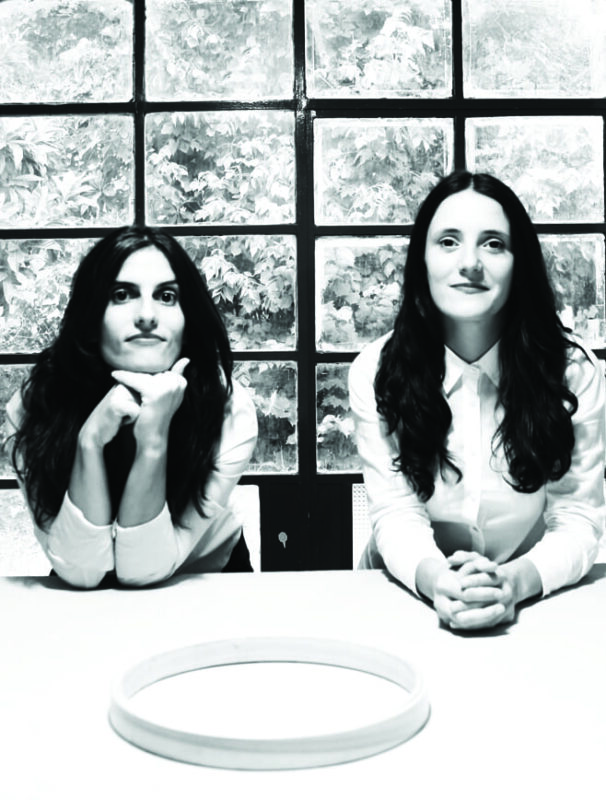 What is your background?
We both grew up in Neuquén, in a context related to art. Laura's family has always been interested in art and painting. She was extremely curious since she was a little girl and became interested in theatre, cinema and music. We went to the same school, in the outskirts of the capital city (a zone of country houses and farms). Needless to say, you must be curious in order to get information on a subject there.
I come from a family where my mother is an architect and my father an artist, a circle of people that used to live in big cities such as Rosario, Buenos Aires or Córdoba in the 1960's or 1970's. They decided to move to the south because they fell in love with the sky (laughs).
What was your first approach to clothing design?
We were both keen on art since forever, in all its forms and aspects. Moreover, we feel that we chose intuitively clothing design to come down to earth, as a method to explore our creative side. The reason wasn't that we read fashion magazines, but that we truly believe that clothing is the first cover of beings and architecture is the second one. Our bodies are covered by garments, and we find this fact inspiring. We have always worked on a profound level, from our own context.    
How was Abre Indumento born?
We met properly at the design school in Neuquén, but we had already seen each other at high school and our neighbourhood. However, we were young and each of us wanted to go deeper on her training. Around 2008, we defined that we wanted to do something together, but it wasn't the right time. We went our separate ways: Laura stayed in Neuquén and I moved to Buenos Aires.
We met again in 2012 and were eager to start a project. Nevertheless, it wasn't thought of as developing a product to sell as a business company. In the beginning, Abre was more of an artistic project and less of a clothing brand, even though we bought the industrial machines, put on the cutting table, and started testing things in Neuquén. By the end of that year and early 2013, we found a small storehouse through our family, we remodeled it a bit, and it became our working space. Meanwhile, we had other jobs to cover our initial expenses and inversions. That's how we gave birth to Abre.
How were those initial years?
As previously said, we are interested in working profoundly on things. So, we decided to stay in Neuquén for the first two years of our brand. In other words, to lay the foundation and develop the content and aesthetic of our label there, where we are from. We always explain it with the same example. There are Patagonian plants described as arbustos achaparrados (stunted bushes), which are prickly, small and short because of the weather conditions, the cold and wind, but have an extremely deep root. We relate to them: we're from Neuquén, we have been blown by the wind, we were far from everything, on the other side of a desert, where information is hard to receive. Then, we came to Buenos Aires City, where it looks and feels like another country. It is culturally different.
Why did you decide to move to Buenos Aires City?
We set our store like a showroom in Neuquén, and by the end of 2014, we wanted to come to Buenos Aires to amplify the repercussion of the label, because it is difficult to become known and appear in the media while being far away. We heard about this place, which was for rental, and the idea of Casa Abre came up. At the same time, there was a possibility to enter a Mercedes Benz Contest. Abre needed some time in Buenos Aires, so we moved here. Nevertheless, we know that it is for a period of time, to set the ground, but we want Abre to be also in Neuquén and in other points of the country. We're just here today.
How does the dynamic between the two of you work?
We are a close team: we chose each other as persons a long time ago. We have been friends and partners for over fifteen years now. We had worked together even before having a project in common. And we share a similar ideology. Nowadays, we are learning what's each other's role and her best feature, to strengthen it.
We are always together during the creative process, which has a unifying thread that started with our first collection. We do not get inspired by a theme and start designing for the next season. We don't pay attention to trends, we focus on what's happening today and the "Abre child" keeps on growing up. To some extent, it is simple for us to see what we did and continue.
For example, we worked with an artist, Maximiliano Leiva, who drew the Mutisia flower. We kept the species on our mind, thought of the tools to develop and started sketching with Laura. There are a few images that we always imagine. We understand that we found some typologies as "brand's classics" or foundation and create new versions of it. Having a store for two years makes it possible for us to comprehend clothes from our user's point of view. Our clothes are not just a fantasy made up in our minds or an art piece, we have a relationship with clients and that improves our designs.
Apart from the creative process, Laura takes part in the social networks and I am more focused on the production, the studio and the people we work with. We have the same thoughts and divided some roles in this way, but maybe tomorrow it changes. Both of us know what's happening everywhere but we must do different tasks.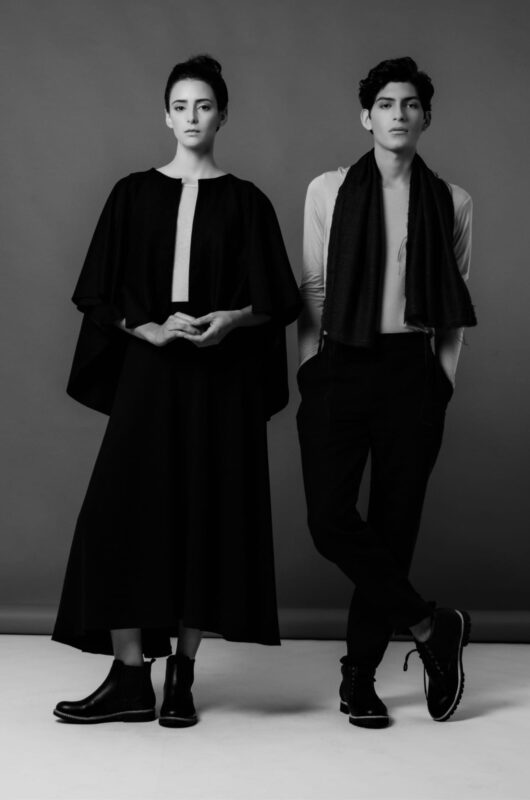 How was the rest of the team formed?
We used to have a great number of assistants in the past. We realised that it was crazy because we didn't know how to direct things yet. The bottom line is that this is a company or a cooperative, a business of some sort. We should think as capitalist (even though it doesn't reflect our ideology) because there is a process and a product to sell. So, nowadays Abre is the two of us; Marina, an assistant; Norma, a seamstress that has been working with us for two years; and a knitter woman who works from her home because she wants to stay there.
As I mentioned before, we work with artists like Maximiliano, who draws our motifs for us and Dolores Barbenza, an embroiderer who captures the drawing on clothes. In addition to them, Soledad Limido is a jeweller who collaborates with us. She is developing jewels with stones from Neuquén; not precious ones, but those that come from riverbeds in Neuquén. She combines them with copper and nickel and silver. And there's a brand of shoes that we would like to create something with, but for now we're offering its pairs here in Casa. The purpose is to develop a product with each team. We can't possibly do all of these things by ourselves, so we established alliances with talented people and we move the brand forward together.
Besides, we work with yarns from the north of Neuquén. It is a long-term project because this particular thread is not widely known yet. We ourselves are trying to make it better in its quality and process of spinning. This is not profitable yet but is culture: to make local people see that their thread is valuable and they shouldn't export it for a low price. We made a short documentary about it and knitted samples. We are trying to collaborate all the time with governmental organisations, cooperatives and others. We know that there are ties to build in order to do this.
We are interested in seeing people grow with us. We have a direct bond with all of those who work with us. The team knows everything about our process, our prices and they come to the runway shows. Furthermore, we prefer to have a small number of garments but have a clear knowledge of what happens behind it and its creative process.
What are you trying to communicate through Abre Indumento?
We feel that this is a cultural project because we communicate a productive process, which is noble and has principles. We believe that a product can be developed while looking into the inside our country, from our country. As inhabitants of the southern region of our country, we are sure that there isn't a lot of knowledge of the culture from that part of our country: the desert, the music, people that live there. It is known that there are ice rinks for rich people to go skiing in winter, and that there is a lot of tourism and that is all.
We want to tell you everything about about it: that the arbustos achaparrados are not ugly, they have a deep root, how beautiful southern rivers are, that we come from a place that can be considered a pearl in the world. We don't want to take anything from outside and want to develop our own language. We dye our clothes with natural elements from our place: pine nuts, onions, etc. Locals tend to cover up their culture because of shame or other feelings; we want to stop doing that. We want to communicate our culture, to give new value to our roots and acknowledge that we are a fusion. We aren't completely native; we're descendants from Spanish and Italian immigrants, but we are from here and we also must be responsible for that.
Is Abre Indumento a sustainable label?
To be honest, Abre is not 100 percent sustainable. We work with noble materials, but some fabrics are not completely natural. We know that the yarns we use are sustainable due to the knowledge of all the process behind, from breeding the animals to spinning the threads. We don't brag about sustainability. It is really hard to be entirely sustainable, but next to other brands we can say that we try to be as much as we can in our conditions.
We furnished our Casa Abre with recycled pieces and avoid excessive expenses. Every collection has some pieces that show patchwork techniques made out with cuttings or "waste" from previous seasons. We set all the remaining cuttings aside to be re-used as patches.
We are getting there, because we believe in sustainability. We are conscious and part of a new generation of designers that think this way. If you see our collection, garments are pretty classic, simple, timeless and some are unisex. If you own one of our jackets with the embroidery of a mountain, it doesn't get out of fashion and you can use it for a long time. It's kind of an art piece.
How do you unite art, nature and clothing design?
We do it directly on our campaigns: we make fashion films, photo-shoots and presentations of our collections. We made three and a half in Neuquén (the last one was completed in Buenos Aires). We were far, but had acknowledged how clothing is shown nowadays and are trained to use the necessary platforms to make ourselves and our project known on a professional level.
The first fashion film was located in La Barda, a dry place with clay soil, Diáfanos was filmed in San Martín de Los Andes in a mountain, and the third one was done in a zone of farms outside Neuquén with fruit trees. Those are three scenes, always surrounded by a lake or water, that represents Patagonia and our context. 
Besides, we make fashion films because we love cinema, since you can represent all the other artistic expressions. You can show music, clothing, actors, colour palettes, context, etc. When the audience watches our videos, they see all the power of the label as an identity. There's a story that began with our first film, about birth, the arrival of the being to Earth; until today, with Mutisia.
When it comes to the garments, for example, pieces from our previous collection have the drawing of the Fitz Roy Mountain. The illustration was created by an artist, who was told to do it with a certain type of line. Then, the drawing was embroidered by a woman who is also an artist, on a fabric made of 100% cotton. And the garment's form looked like a mountain itself, so there's a dialogue between clothes, art and nature on the background.
However, we make sure that our clothing pieces have functionality. We don't do 100 percent art: we try to cover it with our films, but clothes are about function and they are completed by the person who wears them. That is also the reason why we always choose people with all body shapes for our runway shows. The models from our campaigns are not professional ones; we convince our friends to do it, we travel and film and feel a wonderful bond doing something we all love, and there is no hierarchy, we're a team. There are moments when the market asks for professional models, but we turn to different ones.
No one of our clients is a model, it's a reality. Our target audience are men and women, from 18 to 70 years old, with all body shapes. And even though there's a hanger with clothes, we can make some custom-fitted. It is an open possibility for everybody. We're humans and we're making clothes for others. We must be sure that the clothes fit, that the fabric is soft and would not stick to your skin, and the natural yarn that would not cause a rash, make you sweat or itch. It is fundamental to ask clients their opinion when they enter the store and try garments on. A brand that has no relationship with the client and is a complete ideal is not real.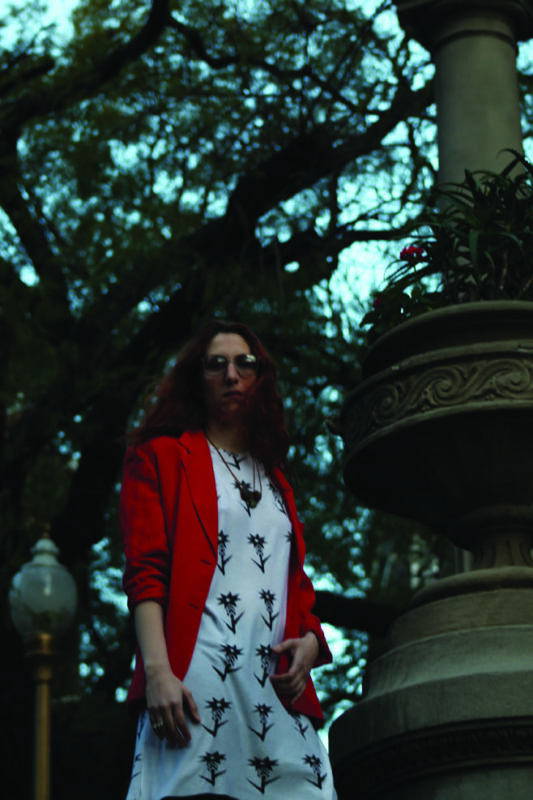 What is your creative process?
As said previously, we follow Abre's unifying thread that started with our first collection and shows what is happening to ourselves as human beings, Laura and Luz. We connect with our past collection, for example, Montaña (Mountain) was about South, wide spaces and infinite. Now, we are looking inside, working with Mutisia flower. We set off from drawing it and then developed a collection of 20 looks with few garments. Our aim is to create a small number of typologies and keep on reducing them until ten or twelve garments. And you could combine them differently. In fact, you can't afford to buy 25 garments per season; you acquire one or two and add it to your wardrobe.
We make a conceptual map of the collection, sketch and design together. Next, we create the samples here since we have the industrial machines in Casa Abre, and test the clothes ourselves because we have different body shapes (and we invite other members of the team to sacrifice for the cause). We examine the pieces thoroughly and the making of new version of our classics feels like an evolution of the pattern making.
The concepts behind the collection gives us contents to communicate, which is part of Laura's role for now. And I am dedicated to the production process. Some garments are made for the presentation of the collection and they are either unique or there are only a few of them. Others, such as a trousers, shirts and t-shirts, are elaborated in small series (the number depends on wholesale orders) and capsule collections. We are developing garments throughout the season, always launching something new. Clients like to find something different every now and then, and we don't get bored.
How did you compose Mutisia?
The legend is marvellous and dramatic at the same time, but is also about hope. Horrible things happen these days but we keep our energy focused to make beautiful things flourish instead.
Maximiliano Leiva's drawing of the Mutisia was represented in embroideries, prints and patchwork. Besides, we chose few typologies and chose how to work it out. For instance, there are ribbons that intertwine, as a creeper plant that interweaves to be able to grow. Ribbons and cut-outs also work the confluence of rivers, another concept from the legend. And we don't turn to buttons or zippers; everything is done with the same fabric, through ribbons that tie together. The couple were son and daughter of caciques (chiefs), so the main garments are a sort of mix between ponchos and tunics.
What does the future hold for Abre Indumento?
Mainly, to grow: an evolution in the product, have more repercussion and feedback from abroad and grow financially to become more stable. Thus, we would be able to develop better products with more capital. We have already "chewed" on our identity and content, and now we are learning the business side of the brand. We are putting a lot of effort on it, in order to be able to work with more people, have more independence and improve our product.
It would be great if the State could support projects like ours, which happens in other parts of the world. It would be interesting to establish a bond, receive capital and have the State contacting different organisations and making a network. As a result, we could make an alliance with a textile factory or a wholesale clothing manufacturer. It takes time and effort for us to be seen.