Different forms of visual art have been used in various ways, throughout many cultures, as a medium for interpersonal healing and growth and connecting to a greater 'source'. The therapeutic potential within artistic expression is monumental for people throughout the world.
Nuro Oliver is a 41-year-old Australian visual artist who has been expanding her creative skills since she was a young child. Oliver's artwork explores the intrinsic nature between self, the natural world, and the universe around us. The intricacies of interpersonal, intergalactic, or energetic connections are expressed within her artwork. Oliver has been using her creative outlet as a healing tool to connect to her deeper self and her fellow kin.
"My art explores the concept of other dimensions and how we as humans can experience them. My aspiration is that my art can help people to resonate with something outside themselves but also of themselves... a universal connection to energy, life, and healing through being present to the moment," she said.
Oliver was born into a highly artistic and musical family, who chose a non-conventional life that was in line with their ideals for a sustainable future. Growing up in Northern New South Wales provided the colourful lifestyle that facilitated Oliver's passion for art. Both her parents being musicians meant that creative arts – whether in the visual or musical form – were central to their values and way of life.
"As a child I was very creative, I come from a very musically artistic family, and making art was a way of belonging and rebelling at the same time. From living in a tent in the bush and walking to school every day, I have a connection to the land that definitely underpins my work. My hippie parents taught me that nature is god, which confused my child mind at the time but I think it allowed me to see the connectedness of life," she said.
The conceptual artist uses different mediums within her artwork, including collage, oils, traditional printmaking, photography, and digital manipulation, as a way to express her interest in personal expansion. Inspired by nature, esoteric studies, music, psychedelics, and Salvador Dali, Oliver's works give a visual representation of her various mindstates and allow the viewer to interpret the images on a more personal level.
"I aim for my art to be a tool that helps facilitate awareness of oneself in the ever-changing moment. A meditation tool to reflect on whatever is brought up by viewing the image. Like all art, this is a subjective experience and everyone's interpretation will be different."
After exploring different types of collage and printmaking in high school, Oliver continued to develop her skills and studied Fine Arts at college, majoring in printmaking and oil painting. She has held solo and group exhibitions of her work and is currently in the process of making a Tarot card deck with her collages.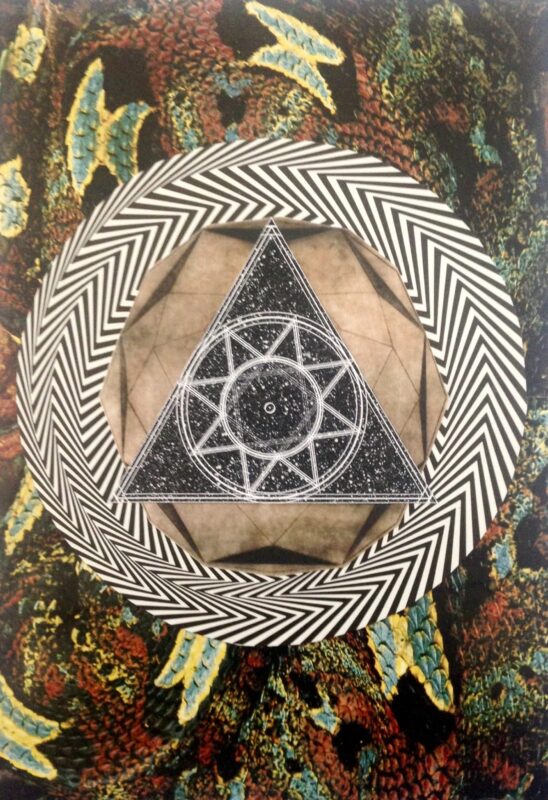 "Collage is a good launch pad as it helps me tap into my subconscious, not think too much and come up with some images and inspiration. I'm attracted to layers, creating a sense of dimension, 'other-worldliness'. I like to use art as a form of meditation and in turn hope that the viewer may experience moments of transcendence when looking at the art," she said.
Oliver hopes that in the future she can collaborate with people and create community art projects, through murals, art therapy workshops, larger scale immersive art experiences and festivals.