'Simon and Mary' is the epitome of style through the ages because you are not just wearing a hat, you are wearing a legacy.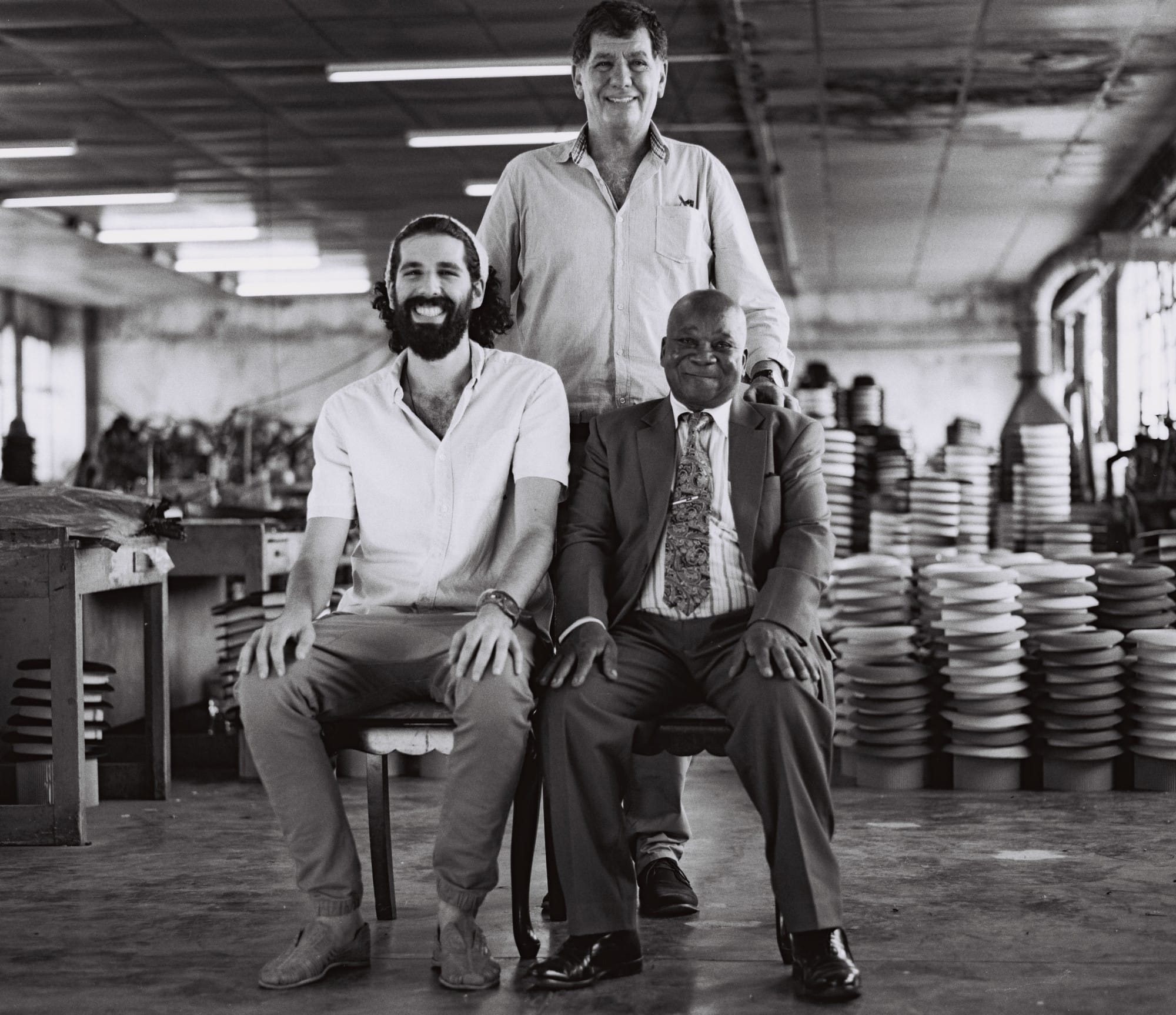 The concept of Simon and Mary was born in Poland in 1935 from a man called Mordechai.
During the World War II, Morchedai packed up his life in Poland and brought his two sons, Benni and Simon, to Johannesburg.
After his death a few years later, his sons continued to feed the dream of their father.
Simon managed to grow the factory into Africa's leading hat manufacturing plant.
"The factory would supply raw materials globally to countries such as – UK, Italy, Germany and in time China. The late 90's saw a shift as China started producing the raw material at a much cheaper price which meant the business needed to change in order to survive. Since then we have been supplying over 500 independent retailers in South Africa with what we like to call dress hats – a finished hat rather than our main business being raw materials" says his grandson Dean.
Dean entered into the family business straight from school and has been in the company for ten years.
However, three years ago Dean, a visionary like his forefathers, decided to add an additional hat to their house.
He says, "The concept of Simon and Mary was born – hats made in South Africa – out of an eighty-year-old hat factory. I took the hats Simon had been making and gave them a modern feel ensuring the quality was up to scratch. Prior to Simon and Mary the factory only made hats for the male market. We introduced a unisex range along with some female styles. Simon and Mary – aptly named after my grandparents who essentially grew the business to where it is today – is a tribute to their dedication and hard work. It's the next generation's spin on how to continue the growth of the factory and keep conceptualizing new ideas".
"Saying you don't look good in a hat is like saying you don't look good in shoes!" (author unknown)
Dean certainly has made it his priority to help men and women alike look their best. He has made sure that new styles are still being manufactured with old systems:
"We use a very old system – our machinery dates back to the 50/60's. They run like machines should run and rarely do we experience issues. If we had to get rid of our current ways and conform to the modern hat manufacturing plants we would lose a lot of people. Something we are not comfortable in doing – we have people that have worked for us for over sixty years (*as mentioned) and policy goes that their family members join the business to carry on from them. On top of all of that why fix something that ain't broke?"
The main material used by them is 100% wool felt – they also use fur felt and have a small leather department, which makes leather hats. Depending on the style and how busy the production line is they can complete a hat within an hour.
Put on your thinking cap!
Dean always knew he would enter the family business from a young age. He was always fascinated with the idea of a hat factory and wanted to learn more. He started out packing boxes in the warehouse, learning how the machinery worked and slowly building his hat knowledge as well as business acumen.
"Luckily for me I am surrounded by a good mixture, my old man and uncle have years of experience when it comes to business – and Alfred Manyoni (been with the factory for over sixty years) has shown me the in's and out's of the factory – how to manage the production and in general how to be a good leader, not a boss but a leader. An invaluable teaching! It took me six years to eventually find my place but the six years of schooling was the best thing I could have asked for. Understanding the business from the bottom to the top is a massive help and also for the people we work with."
"A hat trick"
Simon and Mary was created to create sustainability within the overall hat factory. It's about being on your toes and making sure to keep things fresh. Now with the brand growing they are looking at partnering up with other companies to use the brand and assist in other areas. For example they work with a company called GreenPop – for every hat sold a percentage goes into planting trees in Africa (www.greenpop.org)
Dean says, "there is so much talent in South Africa – we do not offer an intern program or even a chance to shadow us in the factory due to the industrial space and dangers that come with it. Rather we would like to help other young South African designers grow their brands. You cannot have creative without business - if the two are well prepped you have a better chance of succeeding. We are looking into this idea strongly and will hopefully get the ball rolling in the coming months".
"A fine hat fits like a good friend"- Charles Russell
To top it all off Dean is lucky enough to work with his old man. He gets to spend every day with him, "He is my mentor and it's a beautiful thing! On top of that the factory has always been in my life – I have grown up roller blading in the warehouses – the people I work with now have known me since I was an infant. Its home away from home – true love affair – the smell the sight everything about the factory buries me with nostalgia – but on top of that nostalgia is a sense of growth and excitement for the future!"
Agency: Jana and Koos
Photographer: Travys Owen
Wardrobe, jewellery design and styling: Gabrielle Kannemeyer
Wardobe: Manufactured by Charis Dawson
Grooming: Suaad Jeppie
Model: Shakes Fatman at My Friend Ned, Nicolas Van Graan (Twenty Management), Caitlin Lamb (Ice Models), Siya Andi Biyela, Ciaran Slemon.