Art is not something that can be defined through parameters; it has got more to do with a person's imagination and creativity which exceeds at times logical explanations.
There are so many big art galleries in the world with many art forms that merely are a study of conceptual ideas, yet they hold power to mesmerize people across the globe. Likewise, an art blogger is someone who comments on art or some of its numerous disciplines.
According to a study by 99firms, there are 152 million blogs on the internet, and 77% of all internet users do read a blog on a regular basis. Considering this information, let us offer you some ways through which an art blogger can discover a medium to feed their passion and showcase their appetite for art through their blogging skills.
So lets' take a quick look at each one of them: 
Deriving Artistic Passions Through Blogging
Here are seven exciting ways to live your passion through blogging:
A Community – Sense Of Belonging
Probably the first thing that can make any blogger motivated to share their work is to find an online community for themselves that appreciate their efforts and offer them a sense of belonging. Not every artist is like another, and we all have our own uniqueness inside that make us distinguishable from the rest.
Blogging can be a great way through which an artist can channelize their energies to create something genuinely fruitful not only for themselves but also for their viewers. This mutual relationship between the reader and the writer opens new doors and opportunities, which makes it quite an exciting journey for both parties.
Describe Your Work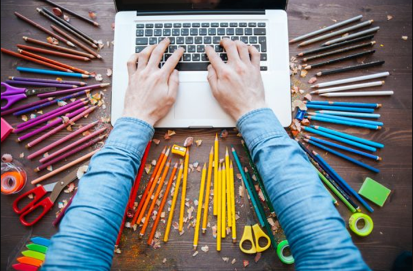 There are often times when a person who likes to create art might be misjudged. While our interpretations of the world are original to us, however, others might perceive them differently than ours.
Hence there is a lot of diversity when it comes to explaining the art, and this is where blogging can make it easy for you to represent your work and offer it a direction that is based on your point of view.
You not only get to showcase your art form, but you also get to explain it in your own words as well.
This is the kind of exposure to your work that can truly tell others about your inspirations and the distinct angles you implemented to create a fine piece of work.
Evolution Of Thought Process
Art is not static; in fact, it is very much dynamic, which makes it more interesting and thought-provoking. Similarly, many artists and their method of delivering art overtime may also see a transformation. This means that as an artist, one can evolve and find new avenues or rediscover their original drives and bring them a new twist that has never been seen before.
A blog for this matter can act as a catalyst in this whole process. It can help the artist find deeper meanings into their own art form once their interactions build up with their audiences. This allows them to see things in a different light and might even go through a paradigm shift through the course of time.
Learning From Your Audiences
When we initiate an online blog, regardless of its focus or critical areas, it is always two-way communication. Hence there is no doubt that readers are allowed to provide their feedback which is, in fact, the act of sharing knowledge.
Therefore whenever you write a post and publish it on your art blog, your audience must have the option to offer their take on the topic and the subject matter. This exchange of comments and discussion that eventually takes place provides the blogger with the immense opportunity to acquire a new artistic perspective from their viewers and readers.
Feeding Your Soul
While science yet has to discover and explain what a soul truly is, at present, all spiritual connections that we have are categorized in the metaphysical study of things.
However, there is no doubt that each one of us has incredible potential deep within us, and through art, you can nourish your talents and reach new levels of efficacies. Art can be quite penetrating and instigate emotional connections.
This potency of art is what makes it more than something tangible. It is not only able to cross physical dimensions and evade scientific explanation but also be able to reach directly into our hearts and pluck at our strings. Your blog about art can, for that matter help you make strong connections with what is defined as the philosophic and supernatural.
Record Your Artistic Progress
The circle of life binds us all, and while all grow up from a kid into an adult, there are times when we miss out and forget the important lessons that we have acquired over the years.
As an artist self-evaluation at times becomes a necessity, and this is where a blog can offer you the tremendous prospect to record your artistic progress and see for yourself how you have changed or improved over the passage of time.
This not only allows you to improve on your previous performance but also refresh ideas and notions that you once considered were lost. However, if you are good at art subjects but face difficulties while composing your assignments, then simply pay for essay and get expert help from specialists online.
Set Measurable Goals
While we did say earlier that art at its finest evades methodical approach, there is however a way through which you can actually measure your blog performance and how is it doing. And that way is to set measurable goals that are not only realistic but also achievable.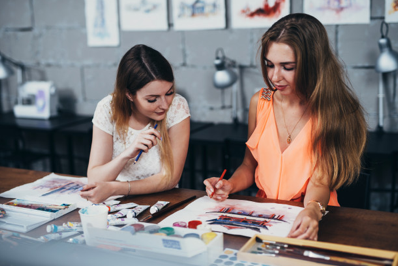 By setting measurable goals for your art blog, it can offer you the drive to look forward to blogging every single day. Plus with every effort that you make for your art blogging career, you move a step closer towards achieving your set milestones. Therefore this can be viewed as pushing yourself to achieve something truly valuable.
This self-motivation is necessary for an artist if they want to see themselves growing. To grow and develop, you should study further in an art school or sign up for short art courses. However, if you are confused about how to compose a perfect application for an art school, take personal statement help and increase your chances of success.
Conclusion
We hope this post was able to offer you some meaningful insights as to how an art blog can help you find your passion and deliver work that comes straight from your heart. Art is probably the most constructive form of self-expression known to mankind.
For more questions and queries regarding the topic of this post, please let us know your feedback in the comment section below. For now happy doodling to all of you and don't forget to write a piece about and share it with the rest of us! Cheers!
Author Bio
Samantha Kaylee currently works as a Planning Manager at Crowd Writer, where higher education students can acquire exquisite essay editing service UK at reasonable charges. During her free time, she likes to play tunes on her clarinet, which she learned from a local teacher during her teenage years.