The introduction of highly advanced technology in fashion isn't new: for the last fifteen years designers like Hussein Chalayan and Iris Van Herpen, among many others, have been challenging the definition of what is considered fashion and what materials can be used. Undoubtedly, the future is here and it is now: the rapid development of wearables, smart textiles that change their color with temperature or humidity, are changing our perception of clothing and the role they play in our lives.
3D printing and laser cutting have been among the most rapidly spreading tools in fashion. Dutch designer Iris Van Herpen was the pioneer in incorporating this technology with the runway. Since her debut, numerous designers started using 3D printing as a tool to create and turn their designs into reality. One such designer is Andreia Chaves, a Brazilian shoemaker that captured the attention of international media and fashion museums in 2011 after the launch of the 'Invisible Shoe'.
Andreia Chaves was born in Sao Paulo, Brazil, but studied at Polimoda Fashion Institute in Florence, Italy in 2010 where she started developing her iconic creation. Before her graduation, the 'Invisible Shoe' series put her under the spotlight after it was featured in Yatzer. From this moment on, Chaves's career took off and her creations were published globally. She also presented the line in collaboration with designer Herve Leger during Mercedes-Benz Fashion Week. But, what makes the 'Invisible Shoe' so special?
In the first place, this creation is captivating for the optical effect of the shoe's reflective surface. With every step, the shoe reflects a different image, giving the impression that the foot is invisible and merges with its environment—functioning as a special form of camouflage. The structure of the shoe was created using 3D printing and is filled with laser-cut mirrored facades. There is another model part of the line that is mirrorless but it is just as innovative as the mirrored one.
The surreal and futuristic creations are a result of experimentation  with unusual materials and the application of them to the fashion industry. When the idea of the 'Invisible Shoe' arose, 3D printing was still a rare technology and not many fashion schools had the printing system available to\ the students. Facing this problem, Andreia Chaves tried another way of developing her creation, but was unsuccessful. That's when she started collaborating with the renowned Dutch prototyping studio, Freedom of Creation.  
The launch of this line crated a big fuss in international media and soon after the feature in Yatzer, Andreia Chaves was contacted by Nicola Formichetti, who was looking for an extravagant pair of shoes for Lady Gaga. At that time, the designer didn't have the finished product, and she took eight months to make the pair of shoes. However, when she was ready to deliver them, Gaga didn't need them anymore. Although it may seem like a sad story, this episode was the take-off point for her, and after this she launched her brand. In addition, that same pair of shoes was later worn by Björk in a feature in Dazed and Confused Magazine.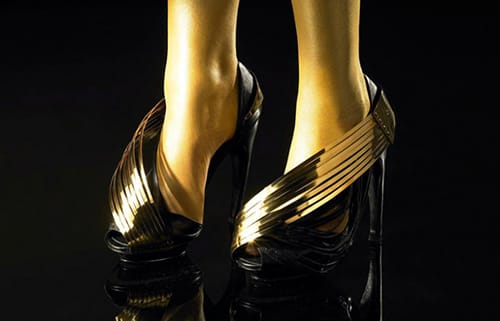 Even though Andreia Chaves' creation has been featured in numerous magazines and websites, she doesn't have the intention of building a mass production brand. Instead, she plans to keep her creations as limited edition pieces that are closer to art than design. However, despite the shoes' status as artwork, they are completely functional because of the leather interior.
The 'Invisible Shoe' can be worn due to the attention that the designer pays to the use of traditional shoemaking skills. Merging this expertise with new technologies makes it possible to innovate while still keeping functionality and comfort. This aspect is essential for Andreia, who keeps handwork as a crucial part of the fabrication process while at the same time using cutting-edge technology.  
Since her debut, her shoes have been featured in many exhibitions around the world. In 2013 she was part of the 'Shoe Obsession Exhibition' at the Fashion Institute of New York, which examined the fascination with extravagant shoes. Her creation was displayed alongside designs from Nicholas Kirkwood, Azzedine Alaïa, Givenchy, Gucci and Alexander McQueen, among many others. Two years later, the 'Invisible Shoe' was featured in 'Shoes: Pleasure and Pain' at Victoria and Albert Museum (London)—which can be visited until the 31st of January—an exhibit that shows the most extreme styles of footwear around the world from ancient Egypt to today. In addition to this exhibition, Andreia Chaves' most iconic creation can be seen at MoMu in Antwerp at 'Footprint'—on display until February 14th—which explores the history of shoes in fashion.
Although the 'Invisible Shoe' is Andreia's most famous creation, since it's launch she has created a new line called 'Goldsculpt', which has three different styles. In this series, the designer explores the concept of movement as she pushes craftsmanship to make a sculptural aesthetic, where material and geometry are integral to the shoe design. The result is fluid structures that wrap up the foot and create a modern and unique effect. The shoe is made with leather and a 24K gold pleated structure.
Andreia Chaves' presence in the prestigious museums indicates that she has left her mark in fashion history, not only for her technological approach to fashion but also because of her philosophy. Expression, individuality, change, technology, craft, fashion, design and art; these words define what she does. With her work she questions what the meaning of fashion is nowadays, pushing the limit and creating her own definition of what it can be. Andreia takes something as mundane as a pair of shoes and makes her own vision of what it can be, thinking out of the box and investigating the infinite possibilities of what can be made with a pair of heels and creativity.