A long time ago someone said that a picture is worth a thousand words. It meant, amongst other things, that an image can be a powerful instrument to send a message. Luciana Val and Franco Musso clearly know this. They are a prestigious photographer duo from Argentina that have been working in both Buenos Aires and Paris since 2002, making productions for fashion editorials and advertising. Some of their clients are Vogue, Harper's Bazaar, The New York Times, Vanity Fair, Chanel, Dior, Givenchy, Gucci, Saint Laurent, Pablo Ramírez and Vero Ivaldi.
Val and Musso met and fell in love when they were Fine Arts students in Buenos Aires. Since then, the couple has built a successful career and a life together. They were introduced to the fashion world (Musso worked as a model for globally renowned labels) and, after winning the 19th Festival Mode et de photographie du à Hyères in 2004, doors flew wide open.
Val and Musso have a unique style that sets them apart from other Argentinean photographers. It could be described as an interesting mix between surrealism and history revision with a great sense of aesthetics. Consequently, each picture has a delicate personal touch that functions as a signature.
How was your love for photography born?
It began almost at the same time for both of us. On one side, I (Luciana) had started working on installations and performances in which photography was used as a resource. This happened when I was on the last years of my college career in Fine Arts. On the other side, Franco's career as a fashion model had simultaneously kicked off. As a result, he became interested in observing what was happening on the other side of the camera. And that's how we started to broach photography.
Apart from your formal studies in Fine Arts, what were the other components of your training as professional photographers?
The truth is that neither of us have studied photography. It was all trial and error as we were learning in an autodidactic way. Nevertheless, it is also true that we already had some notions on composition, light and colours, which had been incorporated during our Fine Arts studies. All that remained for us to learn was the technical aspect and to discover this new world: the greatest photographers, fashion photography, etc.
Beyond Franco's experience as a male model, why did you specifically take the road to fashion photography?
Well, I believe that, in addition to what was previously stated, we can say that we saw fashion photography as a field with plenty of space for creativity. Also, we are design's lovers and, finally, we considered it showed great working prospects that would allow us to make a living out of something we truly liked and enjoyed.
While I suppose that your source of inspiration must vary according to each project you face, what is your main reference when it comes to inspiration?
It is mostly cinema and plastic arts, even though inspiration can come from anywhere, from what we see in the streets, during a journey, etc.
What do you intend to communicate through your pictures?
Definitely, beauty.
Your work shows a distinctive style that is sort of a perfect combination of dream-like and elegant… How did you manage to define it? Or did it work out in an unconscious way?
You defined it very well. The dream-like part of it is related to the oneiric language and surrealism, which is something we are really interested in but do not always have the chance to address. Besides this, we believe that the elegance has a connection to beauty, as well as style, as spiritual state and as an ideal.
We think that we have been delineating both concepts over the years, while affirming our own tastes and thoughts. Apart from this, there's also something that is done in an unconscious way, something that simply comes out from within ourselves, without much explanation or theory.
How do you keep your own distinctive aesthetic and harmonize with the one of your client (a designer or a publication) without losing it?
It's a difficult task, actually. Sometimes it sort of flows easily, especially when we are called for what we do best: when the client asks for our vision and our contribution to a project. However, this is almost impossible on other occasions. The personal mark can't always be kept. This would be possible if we only accepted those projects which are more suitable for our concept and aesthetics. But, as was said before, we live off of what we do and we have to keep an open mind regarding other kinds of projects.
Once you are approached and take on a certain job, how is the entire creative process of your work?
Naturally, it is not always the same since every client or job is different in general. After hearing the proposal, the best part begins! We elaborate ideas, draw and think about the best way of realization. We search for references to help us illustrate what we have in mind, and present it and discuss it with our client.
Then, we move into the production stage, which is the most complex and the least interesting part. When the day of shooting comes, the work routine may vary depending on the project. Above all, it involves team work, not only between us as a duo, but with the rest of the crew: assistants, stylists, make-up artists, hairdressers, etc. We work side by side: we both set up the lights, we both take the shots, etc. Finally, the post-production takes place, what used to be laboratory work but nowadays it is done with Photoshop.
How do the working dynamics work as a duo?
Basically, there are no separated tasks: both of us do everything. We share the camera and, as we use digital equipments, when one of us is shooting, the other one is looking at the results in a monitor simultaneously and contributing with ideas. We complement each other just fine because we are different and we cover different aspects of the job together.
What are the main differences between the work you do in Argentina and those abroad?
They are completely different markets in the full sense of the word, both in the working method and the results. The Argentinean market looks for a more commercial or known result whereas the European aims to explore a dialogue with creative, artistic and new features.
There are a lot of talented, capable and creative people in Argentina, but there is still a long way to give professional status to the field. In addition to this, there's a lack of greater understanding of the role of the photographer, of the importance of generating the propitious conditions to make good pictures, and of what is implied in his work in order to fully respect it. A common phrase that we say when we are facing a market with low economic resources but high pretensions is "we are photographers, not magicians".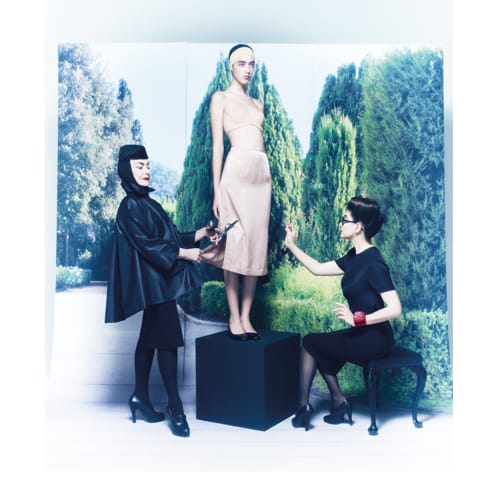 Enchanting spectators
Magia Negra (Black Magic) is the name of an exhibition that took place in Rosario and Buenos Aires and was organised by the Osde Foundation. It showed a long-time collaboration between clothing designer Pablo Ramírez and the photographers. Their "allegiance" dates back to late 1990's. Consequently, seventy-eight photographs, six illustrations, forty-five garments and a short film were the total pieces showed. The purpose was to establish a dialogue between fashion and photography, as a way of expressing modern culture developments.
The exhibit was named after French writer Paul Morand's book, Magie Noire (which was inspired by African culture). And according to the press release: "These creators are inspired by the past, building a dialogue between clothing and the spaces in which they are contained. Their creations form an ensemble of illustrations that shape a narration –as a kind of subtle manifesto-, in which they support the exaltation of a classic and unsettling beauty".
How was the process of putting together Magia Negra?
It was a year and a half of intense work, but a real pleasant one! The truth is that we enjoy a lot working with Pablo, who is inspiring. He is absolutely talented and passionate for what he does and commits fully to what he believes. We really admire him a lot!
And to start with, the staging had to be made from scratch for both spaces (in Buenos Aires and Rosario). This is actually something we loved; since we are accustomed to do our own art direction and scenography.
On the other hand, we formed a team of five magicians! We became real magicians in this case. Apart from us and Pablo, there was Gonzalo Barbadillo (Pablo's partner) and María Laura Carrascal (the exposition's curator). Undoubtedly, a collaboration that will bear fruits in the future!
Lastly, whenever we talk about this, we wouldn't want to leave unmentioned the team dedicated to art spaces at Osde Foundation, where Magia Negra was held: María Teresa Constantin, Betina Carbonari, Janina Aragno and the rest of the girls, without whose support and dedication the exhibition wouldn't have been possible.
There was an incredible dialogue between Ramírez's pieces and your images. How did you manage to create such connection?
It happened magically since our first job with Pablo. We have so many things in common, we are really alike and this is reflected in each other's work. Then, the relationship evolved over the years. For instance, when someone proposes an idea, it is really easy for the rest of us to visualise it in the same way. And, in addition to all of this, we also share values and objectives.
How do you work with Ramírez? Do you have some kind of mechanics, being a frequent collaboration?
Yes, we need less and less time whenever we have to make a new series of photographs. We just talk about it and it goes from there. Actually, we are thinking about experimenting with telepathy soon!
What are you planning for the rest of 2016?
We have just got back from Paris, where we shot an institutional campaign for Lancôme. We also renovated our campaign for the city's airport for two more years. In addition to this, we are finishing Mishka's first perfume campaign, and making the campaign for Kenzo Takada's collaboration with Avon. Besides, we're working on Ramírez's new campaign and in pictures that will be published in two books. Finally, in a few weeks we will be leaving to New York for a new job which we can't reveal yet.